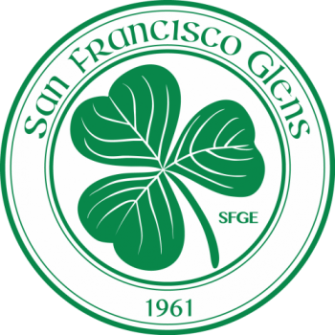 Historic San Francisco Club, SF Glens SC, Launch PDL First Team
The San Francisco Glens are one of the notable historic clubs in the US Soccer and San Francisco Soccer landscape. The Club was initially founded in 1961 as an Irish American Club participating in the San Francisco Soccer Football League (SFSFL). Over the years, they expanded into the largest youth academy in the City. Their illustrious history includes  two SFSFL premier division champions as well as two appearances in the national amateur cup finals finishing as runners-up in 1979 and 1990.
Midfield Press chatted with two of the Club's leading organizers and curent front office members, J. Ramon Estevez and Mike McNeill, ahead of the Club's official PDL expansion announcement, to learn more about the history and goals of the Club.
MP: Can you start by talking a little bit about the history of the Glens' youth club? When, how, and why was the Club founded? I know the adult Club has more than 60 years of history. What are some of the Club's top accomplishments in their history?
Mike: The youth club started in 2011 and I was brought on in 2012. It was initially a club made up of recreational teams and served a large portion of the Irish community as well as other sunset families. Since that time, we have grown into probably the most diverse and definitely the largest Club in San Francisco. About 18 months ago the Glens merged with a club in the City called Evolution, and that really spearheaded this kind of change in the soccer landscape here in San Francisco and led to the emergence of one of the strongest youth clubs in San Francisco in Glens Evolution. Evolution were a growing and successful young club run by Dave Anderson. The leadership of the two clubs came together and agreed that if we are to achieve our goals of creating the most competitive club in San Francisco, we need to join forces. Today, SFGE have nearly 100 teams. So, the growth has been incredible. When the merger happened it really brought a shock to San Francisco and it just created a huge buzz in the soccer world. So much so that our first year of tryouts we had over 1,300 kids just trying out for our competitive program, not even our rec or micro programs. We also have a really robust program at the micro level from ages 5-7 that lead into the youth club through existing partnerships with school programs I think it's one of the reasons we have grown so quickly and so large in a short amount of time. 18 months on, we have one of the strongest U12 Development Academy programs in Northern California. Also, we have some of the most competitive teams in NorCal Premier, State Premier and National Premier Leagues. I also think it's worth noting when talking about the diversity and growth in the Club that we are in the process of merging with the most competitive club in the Mission [District], Bay City Soccer Club, a largely Latino-based club. We are proud of what their community adds and the value they bring to our existing community. They will benefit from our resources as well as the opportunities that come with being part of a large club. We feel this merger is just as important as the first team.
Ramon: With the growth of the youth club, starting a PDL team intersect[s] really well with the Club's history as one of the oldest men's teams in the City of San Francisco having been around since 1961. So, it will be nice to see the history on the adult side and the recent history on the youth side that are starting to intersect, creating a true bottom to top club here in San Francisco
Mike: I will just add one more thing on the history. Dr. McFadden founded the Club in 1961. Dr. McFadden's son coached in the Glens and is still very active in the Club, and now his grandson is playing for the Glens to this day.
Ramon: What I really appreciate about the Club, especially given its strong, Irish-American roots, is the inclusive nature of the Club that is reflective of the City's reputation as a melting pot. And you can see this not only on the field, but in the front office and among the coaching staff. It's something that I'm proud to be associated with.
MP: What is it about the PDL as a league that interested the Club most? Was it looking for the best place to bridge the gap between the academy and the professional ranks?
Ramon: Yeah, certainly given the current landscape here in the US, aligning ourselves with the USL through the PDL, and given the League's relationship with MLS, we feel it truly creates a direct line for players from youth all the way to the pros. So, from an optics standpoint, it really does create that pathway, which has a lot of collateral benefits for the Club and the City's players as well.
Mike: From a club perspective, we are trying to create a culture and build a professional environment and develop players that can be proud to be from San Francisco and the club they play for. It was really important that we add a first team on top of our current structure, to really show that there is a pathway and SFGE is creating something that is unique and something that you don't see very often. Especially in Northern California, you don't see a lot of it; many clubs aren't willing to put a first team in for whatever reason. So we just wanted to be that spearhead and show that we can change the culture of American soccer one club at a time.
MP: I understand the Glens have a relationship/partnership with Celtic FC of Scotland. What does that relationship look like?
Mike: Yeah, we have a relationship with Celtic in Scotland. Another good story on our history is prior to Celtic winning the European Cup in 1967, they were doing a tour of the United States, and they were playing in Kezar Stadium against, I believe, Bayern Munich. In what started out as a casual encounter between our young club in San Francisco and the Celtic team that went on win the European Cup against Inter Milan later that season, ended up being a significant part of our Club's history. Celtic FC donated a strip to the Glens that went on to form the colors and the shape of the badge and the clover that is now still so recognizable in San Francisco. So to come full circle now, myself and Leo Cassidy reached out to Celtic and talked to them and they had interest in developing a partnership on the West Coast. They have one of the best youth academy's in Europe. Obviously their first team isn't quite what it used to be, but what really appealed to us was the fact that there was such a focus on youth development. The fact that there is a serious historical connection, the branding is somewhat consistent and that they put so many resources into their academy system, it was a no brainer for us. We have players, teams and coaches that go over there every year and this February, we have two players that Celtic FC has seen and scouted, and now are flying them out and attend a trial out in Glasgow all expenses paid.
MP: What is special about the SF Soccer community? You have the Deltas win a title and fold, but leagues like the SFSFL have so much history, as well as clubs like the Seals, El Farolito, and clubs like yours to name a few.
Ramon: I think that historically it has just been a very competitive league and it's been a very strong league with talent[ed] players and teams. If you look back at the history, it's three of the four or five US Open Cup Champions prior to MLS starting in 1996 came from this area, two of those specifically from the SFSFL. So I think that paints a pretty strong picture of what soccer is here. You have teams like ours that have literally been around for decades, with the Glens not being the only one. There's just a lot of history and there's always been a high level of competition in this area. We can go back to it being a melting pot. You have a lot of people from outside that have come in with that same passion for the game, if not more so, and that just adds to the atmosphere here in San Francisco.
Mike: For me on the youth side, there has been an injection in the last 5 years. In year's prior, you would see the best kids in the City going to Marin or down the peninsula. But now with this injection of soccer clubs and soccer people in the City, there are three or four really good clubs in the City now that we had never really seen before. So from a bunch of perspectives, soccer has come a really long way in San Francisco, I feel.
MP: I understand historic Boxer Stadium, home to the SFSFL and El Farolito, will be your home field. How did you guys come to that decision and what time will you be playing home games?
Ramon: So looking at the different options for stadiums in San Francisco, we were pretty limited. But I think the stadium's connection to the Glens, the soccer community at large, and its rich history made Boxer an attractive choice. As far as the timeline, the PDL season is a little bit more condensed; The season runs from May through July and while there are still a few details to iron out, our expectation is to call Boxer Stadium our home for the 2018 season.
MP: What does the current investor group look like and who makes up the ownership group and front office? What roles will you two specifically be playing at the Club?
Ramon: So you'll hear Mike talk a lot about the culture and the community and I think you'll find that it's connected here. There are no individual or outside investors and you can take a position that we are one hundred percent member owned, as the team will be fully owned by the club. So, in essence the club is owned by the participating families living in San Francisco and surrounding cities and we are really excited about that. As far as our roles, I will be focusing more on the business operations side, with input on the technical side. As you can imagine, Mike has a pretty heavy load in his role as the DOC for the youth teams, but he will still have significant involvement with the first team, especially on the technical side.
MP: What is the long-term vision of the Club? Are there any plans to possibly take this Club one step further at some point and go pro?
Ramon: I wouldn't say that is a focus right now, but certainly given the progression of the team, it is certainly on our radar. I think anyone who is going through this would certainly say the next step is on his or her radar. How things play out with all the things going on in the US Soccer landscape, there may or may not be a right fit. But certainly, it's something that is in our line of sight.
Mike: I'll just add that, given the growth of the Club in such a short amount of time, it's obvious that we are an ambitious Club. I think we proved that by adding a PDL first team, that in itself is somewhat of a unique situation for a youth club to be doing this. So yeah there are no immediate plans for that right now, but we are an ambitious Club and we will see where it goes from here
MP: Where does your player pool come from? Will it come mostly from the academy and former academy players? Or will you pull from the local colleges as well? And who will be the Club's inaugural PDL coach?
Ramon: I think given the makeup of the PDL, I can't imagine that there are many teams with an answer other that what I'm going to say, and that is that we will use a mix of local players from the men's leagues, players from local colleges, and players that are home for the summer that play college soccer outside of the Bay Area. One of the advantages we have here in San Francisco is that we are surrounded by quite a few division-one college programs. Obviously Stanford, but you have Cal, Santa Clara, Saint Mary's, USF, San Jose State, UC Davis, Sacramento State, and that isn't even mentioning some of the strong division-two programs in the area as well. So, I think that makes for a nice foundation. We also have good relationships with many of these coaches, so I think that is an obvious pathway for any PDL team.
Mike: As far as the first coach, we are in the process now of creating the short list of candidates. We are looking at some local coaches, but we aren't going to hide the fact that we have some fantastic partnerships from outside the country as well. It will be a very well thought out decision, but we currently just have a short list of candidates that we are excited about.
MP: From where do you expect to make up your fan base? I assume it will start with the academy kids and their parents?
Mike: I think that with the size of our Club, and the amount of former players we have as well, and the story the Glens have in the City, you know Balboa Park (where Boxer Stadium is) in the 80's would be packed with fans of the Glens before the emergence of the MLS. So, we are really going lean on the history a little bit. We are going to have the fans and the members of our Club who feel loyal to the Club. It goes back to the culture and the community. As well I think we are going to be able to pull in new fans and new families who are going to join the community. This is a community and a family organization, so for me its starts there.
Ramon: Yeah, I think that's our initial base to tap into. But keeping to the themes of community and culture and diversity, we really want to reach outside our sphere of influence. It's important to make clear this is a team for all of San Francisco, so we will definitely be looking outside of that in a very organic way. First, you have to have a good product to appeal to people who see this as a true bottom up approach, to appeal to families and make true fans of the Club.
MP: What are your thoughts on the potential Derby with SF City. This will be one of the PDL's only true intra-cities Derby's. What are your thoughts on what that match-up can mean to the game in the City?
Ramon: I think we can take that further and say this is one of the only true intra-city rivalries, at this level or above, in the entire country. Overall, I would say that the addition of the Glens to the PDL in this area has been generally well received, and there's already some excitement building among the whole of the city's soccer fans, not just fans of the Glens or SF City.
MP: Is there anything else you would like the readers of Midfield Press to know?
Mike: No, I think you covered a lot and I just want to say I really appreciate this opportunity.