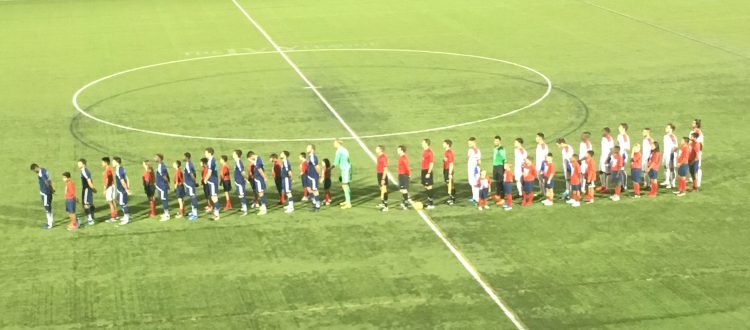 The NPSL Season Swells At The End, Before A One-Sided Finish
There was a wild swarm of noise around the final two weeks or so of the NPSL season. The Elm City Express had steamrolled every team that showed up behind powerful play from Tavoy Morgan, Christian Hernandez, and keeper Matt Jones. This included CD Aguiluchos, and their goal bagging forward Simon Rawnsley (near the top in career goals in the NPSL), as the first year club from New Haven dismantled the California club 2-0.
The other side of the semifinal included Midland-Odessa FC a former PDL team, and Detroit City FC, the gold standard for clubs in the NPSL. Save for the Brooklyn Italians, Detroit City has the most wins in the NPSL since their inception in 2012 with 45, and their rapidly expanding fan base literally knows no bounds as fans of the club can be found on at least two other continents.
Midland-Odessa, by comparison, was kind of new to success, as the furthest they had gone in the post season was the conference semi-finals in the Southern Conference of the PDL on an 80th minute PK to the Ocala Stampede in 2015, who folded at the end of that season. The following year they advanced all the way to the PDL semifinals before losing to the eventual champions, the Michigan Bucks.
On their return trip to Michigan this year, Midland-Odessa defeated Detroit City FC on penalty kicks 0-0 (4-2), vaulting them into the NPSL championships. As we mentioned before, Midland-Odessa started the playoffs with 30 players, and by the time the got to the semifinals, only 16 remained. Being that they were formerly a PDL club, it is understandable, albeit inexcusable to assume that they went by the PDL calendar, instead of the NPSL calendar. The PDL final was played the weekend of the NPSL semifinal.
After the win, and after the celebrations and cup hoisting, Midland faced an actual problem: Of their 16 players they had remaining, 13 of them had to go back to school, leaving only three players left on their roster. After some speculation about what might happen (Elm City wins by forfeit, Detroit City goes on instead, Midland should be banned from the next year's playoffs), The NPSL announced that the championship game would go on as planned in New Haven, CT between Elm City and Midland the upcoming Saturday.
Fans were none to pleased after hearing about the NPSL ruling. The NPSL allowed Midland to keep six players who were not from D1 NCAA schools, which included their captain Andrew Moulin, their best player Alex VonHolle, their leading goal scorer Ricardo Palomino, and a solid Midfielder in Isaac Sanchez. Midland then brought on five other players who were rostered earlier in the season but not included in their playoff run. The day before the final though, they did not have a goalkeeper, so they flew in back-up goalie Jorge Medina and solid defender Antone Jarvis to provide cover and allow everyone to play in a natural position. The NPSL rules that you must have 14 players to not forfeit a match. Midland arrived in New Haven with 13.
After all the drama and the yelling, the game was played that Saturday at 8:15 PM in front of 3200 people. Elm City started slow against Midland, but eventually, as they had done all season, they unlocked the Midland defense with a goal from Tavoy Morgan from Christian Hernandez in the first 20 minutes. The duo linked up again shortly after and the game kind of broke open for the Express who went to win 5-0 over the tired Sockers from Midland. After the match, the fans at the match applauded Midland-Odessa, and the front office of the NPSL shook hands with the Sockers brass for allowing a match to even happen at all.
"We just didn't have our roster." Midland-Odessa coach Matt Barnes said. "They were better tonight, but we didn't have all of our guys. I feel it might have been different. But give props to Elm City."
Elm City Express head man Teddy Haley agreed in short form.
"You have to play whoever is in front of you." speaking about Midland-Odessa. "I thought our guys played hard, albeit slow to start, but eventually we got it going." before heaping praise on to his players.
"Tavoy, Christian, Shaquille (Saunchez), Lucas (Gabriel), were all really special tonight. Kalou Keita came up big for us tonight. Having him playing with Daniel (Oliveira) is huge because they compliment each other so well."
Most of the fan fair behind this game was pleased with the result as a lot of people felt Midland-Odessa shouldn't have been able to play this game legally. While they are entitled to their opinion, personally, Midland-Odessa earned this chance to play in this game, even if it resulted in them being blown out. No matter how many fans your team has, how many games you won, or how quickly your team has grown in two years, your team and their extensions are huddled around their laptops/phones/tablets/etc watching two other teams play. The finality of ending a tremendous season without a national championship is really rough. All the practice, set up before matches, ticket counting, fees paid and such….it has to be excruciating to think that all of that won't turn into a large cup with your team's name on it.
Honestly, the choice wasn't up to the league, or up to Midland-Odessa, it was up to Elm City. If they wanted to not play the match, instead taking the cup with no game, they could have asked for that, and there would not have needed to be three days of meetings. But they wanted to play, as did Midland, so compromises were worked out. So Midland traveled to Connecticut with a roster of players who had not practiced together since early on in the season, and played against a vastly superior team at that moment. It doesn't erase the fact that the team you supported lost 1-0 nothing to Midland and their grind it out approach, or that your team lost in the regional semi-final to another team, or that your team didn't even make the playoffs in the league of yours that isn't the NPSL.
Personally, There was not a team on the other side of the bracket that would have beaten Elm City. Detroit's team success literally revolved around Tyrone Mondi, who left for Costal Carolina right after the regional final. Without him their record was 0-2-2 on a -2 goal differential. AFC Ann Arbor's back line was missing a few key stoppers (namely Jimmy Fiscus of Michigan State), Miami Fusion FC had already lost at that point. The NPSL North was literally being laughed at by people in other parts of the country (somewhat fairly, somewhat unfairly). The only real threat to the New Haven club was Orange County FC, and they choked at home against Aguiluchos. It was really just a point of "Who is going to hand Elm City this title?" to be frank. And props to Midland-Odessa for at least showing up and wanting to end their season standing and not sitting, and props to Elm City for spanking them in front of their home crowd like they were supposed to.