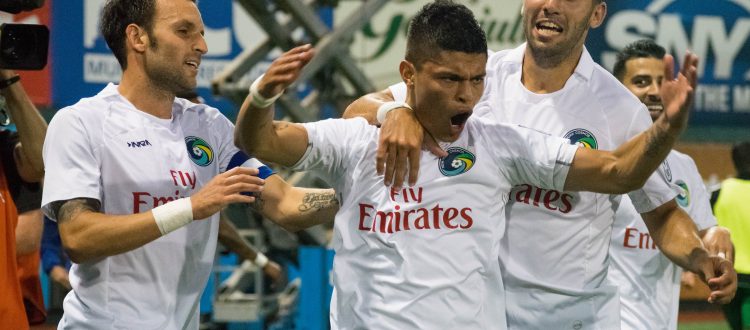 America's Next Great Midfielder May Be Hitting His Stride in Brooklyn
The stage is MCU Park, overlooking the famous boardwalk on Coney Island, New York. 78 minutes have gone by in a tense battle 1-1 battle between NASL favorites New York Cosmos and The Miami FC. Former U.S. Youth International Eric Calvillo collects a pass outside of the 18-yard box and looks to go one-on-one against Richie Ryan, former Sunderland academy player and one of the most expensive domestic transfers in American soccer history. Calvillo cuts to his left foot, unleashing a bending shot that nestled just inside of Daniel Vega's far post.
The shot not only sends MCU Park and Calvillo's teammates into pandemonium, but it reverberates throughout the NASL as an arrival call of sorts for Calvillo. The 19 year-old was in the midst of a break-out month for New York, but he hadn't pulled anything like this shot out of his bag of tricks. Not yet.
Even if it seems that moment of magic had come out of nowhere, Calvillo's rise through the ranks of the NASL in 2017 has been years in the making.
Eric Santana Calvillo was born on January 2nd, 1998, in Palmdale, California. Almost instantaneously, Eric fell in love with the beautiful game through his father, who quickly signed Calvillo to local academy Real So Cal.
"Playing soccer came from my Dad. He told me that once I started walking, I went straight up to a soccer ball. He gave me my first ball and it's been with him, 24/7, with soccer. Going to Real So Cal… my Dad had always been my coach up until I left for Real So Cal. We had some close friends who had left there after playing for a season and they told us to contact them. We went for a couple of practices, they loved me, so they invited me to come join their team. I was there for a couple years before coming here."
It was at Real So Cal where Calvillo began to shape his soccer mentality and begin his journey through the beautiful game in the United States. Calvillo scored four goals in 27 appearances for So Cal's U-15/U-16 side during the 2012-2013 season. Calvillo also broke through to the U.S. Youth National Team for the first time, earning a call-up to the American U-14 side while at So Cal. While his Dad was the one who got him into soccer, Calvillo credits another factor as being the biggest early influence of his playing style: Barcelona.
"Barcelona has been a big impact on my life and my style of play. The way they love to keep the ball, keep possession, and move the ball quickly. I grew up watching their tapes, especially on my first U-14 National Team cycle."
"Our coach was Hugo Perez, and it was all Barcelona with him. When I went there, everything was molded after Barcelona: the training, the playing style. That's something I keep trying to follow to this day."
As Calvillo's game continued to grow, so did his participation in the Youth National Team. The young midfielder entered the U.S.'s U-17 residency program, with his two-year stay culminating in a trip to Chile for the U-17 World Cup in 2015. Despite Calvillo's heavy involvement (appeared in all three matches, two starts and 202 minutes) the U.S. had a very unforgettable outing, managing one point out of three group stage matches and getting trounced by the host nation Chile, 4-1, in their final match. However, Calvillo still cherished his time in Chile and is thoroughly honored by his call-ups.
"It's a great feeling, honestly. There's nothing like it. It's always an honor to represent my country, and going to that World Cup was an amazing feeling. Fighting against those national teams for a U-17 World Cup… even if it didn't go as planned, those two years with the U-17 residency program was incomparable. It's a great experience and it's unfortunate that they're cutting that out, but it was a great experience for me and I wish I could do it again."
Calvillo would then build off the World Cup by joining Brad Friedel's U-19 side at the prestigious Copa De Atlantico Tournament in Spain in February of 2016. Despite an arguably worse showing by the United States than Calvillo's U-17 World Cup, it was a valuable experience for Calvillo as he wore the captain's armband for all three matches playing against the likes of France and Spain. Additionally, Calvillo's leadership and attitude caught the eye of Friedel, who gave the midfielder high praise when asked about why he named Calvillo captain for the tournament.
"It's funny; that was the first time I had met all the players," Friedel told NYCosmos.com. "You try to look at players' personalities, and Eric is an infectious character. He had no problem voicing his opinion amongst the players and no problem speaking to adults. Those are qualities that you need as a leader.
"What I hope is that I get a group of players together and I can pick 11 as captain. You definitely need more than one leader on the field to win games. Eric possesses those leadership qualities, which are very good to have. When you're out on the field, the coaching staff isn't out there battling with you. You need players to make decisions and communicate with the other players. Eric showed early on that he possesses a lot of those qualities."
Following the Copa de Atlantico, Calvillo decided to move to the East coast and sign his first professional contract with the New York Cosmos. Joining Youth National Team compatriots Alexis Velela and Haji Wright, Calvillo completed a Californian triumvirate of signings that many believed to signal a youth revolution for the NASL and its flagship franchise. Wright came first, the most heralded of the three, a towering attacker chasing Raul's sage advice and eyeing a primer before his period abroad. Next came Velela, the versatile and solid defender whose calmness on the ball brought praise from peers double his age. Finally came Calvillo, billing as a box to box midfielder who just can't get enough of the ball. Calvillo arrived in New York, slightly daunted by the other names that wore the crest: Raúl. Senna. Pelé. However, brimming with confidence and never one to back down from a challenge, Calvillo was ready to grab his chance and get to work. He was ready for a change of atmosphere, too. No, not the kind you're thinking of:
"Haji and Alexis had a big impact on my decision, but I know my agent had a good relationship with Gio coming into the process. So, he told me about the Cosmos, did my research, and thought it was a great opportunity for me to start. The cold weather really was a big impact as well. I love playing in the cold weather, it always makes me feel like I can run for days. Getting away from the hot weather is something people like to do sometimes."
With the confidence and motivation of the coaching staff behind him, Calvillo arrived in the East Coast and did what he said he would do: he got to work. While the transition to professional life may be daunting for anyone, let alone a teenager, Calvillo made his way into the Cosmos without a hitch. Strengthened by the brotherhood of longtime friend Alexis Velela, Calvillo's hard work, tenacity, and swagger caught the attention of many veterans in the Cosmos locker-room. While the likes of Michael Lahoud and Niko Kranjcar quickly began to notice Calvillo and routinely give him advice, Danny Szetela was the midfielder that took the Californian under his wing the quickest. Szetela's start in the professional game mirrors Eric's: a talented young midfielder goes professional before he would even be able to go to college. Who better to show Calvillo the ropes?
"I've been Eric's age and been playing professionally," Szetela told SBI in an interview in March of 2016. "I know what you have to do and how guys will sometimes give you a hard time. Sometimes, they won't, but coming in at that age, when you make a mistake, they might get angry at you. It's not being angry because you're a young guy. It's because they want to see you working hard and taking criticism positively. That's what's going to take you and put you at the next level."
"Eric is someone that I can talk to because I've been through it. He's been doing great so far and we can see him improving already."
Calvillo continued to work. And work. And work some more. Then, in July, a breakthrough. Calvillo made his late in July 13th's 3-0 home win over Jacksonville. In the dying moments, a through ball just skipped past Eric's feet, and with it, the dream of scoring on his professional debut. While the run-out wasn't much, Calvillo had got his taste of the big time. He went back to work, biding his time, waiting for another true shot at glory.
Then, one late October night, his hard work paid off.
October 29th, Minnesota. It's the final week of the 2016 NASL Season. The Cosmos are making their final visit to NSC Stadium, as Minnesota United is closing out its tenure in the NASL to move on to the pastures of Major League Soccer. It's the final chapter of one of the modern NASL's more hotly contested (and lopsided) top of the table rivalries.
This is also the moment where Eric Calvillo begins to write his story.
48th minute. Ayoze, all along on the wing, shakes of a Minnesota defender, and crosses a ball towards Calvillo, all alone in the box. The midfielder strikes the ball with his head, sees the ball hit the back of the net, and runs off in jubilation.
And then, nothing.
Much like the phenomenon described by Abby Wambach in her memoir, Eric Calvillo can't remember half of the best moment of his career. It was that good.
"That day was the best day of my life. I honestly didn't think it would happen, I was very fortunate to grab the start and a goal, nonetheless the winning goal. After that goal I always tell everyone that I can't exactly remember what happened after. I honestly blacked out to the point where everyone was celebrating, saying and doing these things, and I can't remember any of that. All I remember is hitting it with my head, watching the ball hit the net, and after that it's a blur. It was a great day for me and I was very excited."
That game winning goal signaled the end of Calvillo's 2016 season, his first as a professional. Despite the Cosmos near death, the midfielder was still under contract for 2017 and was in the initial trio of players, including David Ochieng and Ryan Richter, to return to the Cosmos for their new campaign in Brooklyn.
Being the first holdovers from 2016 wouldn't be the only thing that connected Calvillo to Richter, who was signed to help the Cosmos push to the 2016 NASL Championship. In Richter, Calvillo found a teammate whose matched his confidence, swagger, and unwavering passion for the beautiful game. Both players began traditions together in 2017, both before games and training sessions.
"I think he's [Richter] done that by himself for years, and then out of nowhere, after a few trips with the roster, I started doing that with him," said Calvillo. "This year, since I've been consistently traveling with the roster, we started doing it before every game. Every game we're out there, trying to see the field, feel the field, and try and do our little routine."
"Even in practice we have our little routine, always trying to be the first one's out here. He'll jog all the way to the endline, I'll wait for him stretching, and then we try and touch the ball as much as possible. We always try to touch the ball a lot and get used to the field. It's just a motivation that we have, that's called "obsessed". We're obsessed with this game."
The obsession and hard work paid of for Calvillo, who was a lucky recipient of first team minutes due to a lack of depth and litany of injuries in the Cosmos midfield. Calvillo's first real feature came during the Cosmos Open Cup disaster in Reading, Pennsylvania. Despite a night to forget for his club, Calvillo went the full 90, proving to be a constant threat to the PDL's midfield.
Later in the season, Calvillo's true magic began to take form. In a scrappy game in Edmonton, Calvillo lodged on to a pinball situation in the 18 yard box and slid in the Cosmos game winning goal, earning his side a 1-0 win and three crucial points in the Fall Season. Not only was this the beginning of a magical month of form for the midfielder, but it saw him move to a new position. Cosmos First Assistant Coach, Alberto Gallego, explains:
"We are using him as an open midfielder, much like the 4-4-2 employed by Atletico Madrid, playing with two open midfielders that go inside when they get the ball. This gives us great circulation of the ball because the space he's leaving is immediately taken advantage of by [Ryan] Richter, usually."
This change in position allows Calvillo drive forward and become more involved in attack and build up play than he normally would as a Number 6 or even a Number 8. He's certainly made his mark, scoring a goal against Valencia and notching a brace against Miami FC that sent shock waves through lower division soccer. What do his coaches have to say about his run of form?
"Eric has always has been a player who has been very competitive, always hungry, wanting to play," said Head Coach Giovanni Savarese. "He has been patient waiting for his opportunity. Last year he had a chance to step in and he had a fantastic game against Minnesota, scoring a goal."
"Little by little this year, he's been waiting for that opportunity and when he had it he took advantage of it. Every game he gets better and better. Today, the second goal was fantastic. He's playing in a different position. He's playing on the right side. He's done very, very well. He's continuing to develop and grow."
"Well you feel very happy because even with a young player like Eric who works and trains very hard, he couldn't get many minutes," added Gallego. "You tell to him everyday to not give up, keep playing, and believe. Now he's finally getting the reward he needs to keep pushing forward.
"He has many years ahead to be a very important player, and he has to understand that in soccer you have moments that you do play and you don't play. He's taking advantage of his moment and he's showing everyone."
Here Calvillo stands, in the best form of his young life. Four goals in three games, at a new position, and one goal against a La Liga giant. Years of dedication, disappointment, and hard work have led him to this opportunity. However, he thinks this is only the beginning.
"It's a start. Hopefully I can continue, but that's up to me. I can't let all the goals and publicity get to my head, I have to keep working hard for not only myself but my teammates and my coach.
"I need to continue showing them that I'm here to stay. I'm here for a reason. I'm going to bust my butt off for everybody. I'm very grateful for everything that's been happening, but I think it's a start, a stride towards what I'm trying to do with my career."
What could the future hold for the young Calvillo? At only 19 years old and full of international experience, the future is bright. His motivation is seemingly unrivaled, his dedication and obsession coming in amounts seen in players with triple the experience he has. Even though he knows he can't predict the future, he still has one obvious goal in mind.
"The senior national team is something I'm obviously striving for. I know I'm young, but hopefully if I can continue doing what I'm doing, hopefully I get there in the future."
Donning the red, white and blue isn't the only goal. Chill may have been a few years ago, but it may still motivate the young midfielder to the game's biggest stages.
"It's every kid's dream to play in a World Cup, so that's something I really want to do. It's a great experience and something that everybody wants, and winning the World Cup is the next challenge if I make it to the national team."
One things for certain: if Calvillo can continue to marry this form and this obsession, there's no telling what heights he can reach.