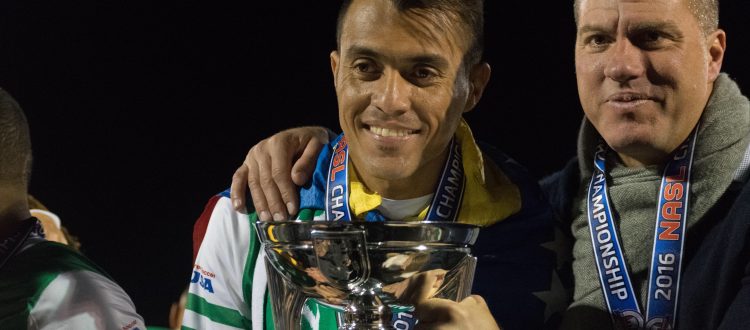 Juan Arango to Return to the New York Cosmos
Photo Credit: Steve Hamlin
New York Cosmos fans have welcomed back Danny Szetela, David Diosa and Lucky Mkosana after brief stints with new clubs, but now it appears they will have the opportunity to cheer for last season's most influential figure on the field again, Juan Arango.  Sources have told Midfield Press the Venezuelan star is set to return to the Cosmos for the Fall Season.
Arango is not retired say the sources, despite Transfermarkt listing his status as such.  Most recently, Arango had a spell in his home country with Zulia FC out of Maracaibo.  Arango's presence has been missed on the pitch, as the attacking midfielder buried 15 goals and created 7 assists during the 2016 NASL season, along with another goal and assist in the Open Cup.  
Last week manager Giovanni Savarese said the Cosmos would add an impact player during the team's conference call with the media.  Arango made a huge impact with the Cosmos in 2016.
While Emmanuel Ledesma has emerged as a star with some brilliant goals, the Cosmos have missed Arango's goals and his dead ball marksmanship.  The Cosmos scored 22 goals in the first half of the season, off their pace of 59 from last year.  Having their top goalscorer by far from 2016 return to the fold should help them challenge Miami FC for the Fall Season title.
The official announcement from the New York Cosmos can be found here.