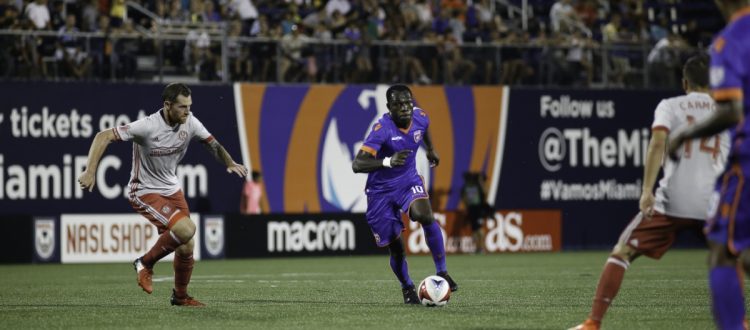 NASL Charts A New Course For Success, Focusing On What It Can Control
A discussion with Keith Bruce on the state of the North American Soccer League, and its goals for the future.
When the North American Soccer League earned provisional Division II sanctioning from the United States Soccer Federation in January, the league's owners knew their work had only begun.  The crisis at the end of the year had brought them closer together, as they worked with each other to ensure a future for their clubs.  With a 2017 season secured, there was a lot of work to be done to set themselves up for success in 2018 and beyond.
One of the assets the NASL had going for it was a loyal staff, who understood the industry and had stuck with the league through difficult times.  At the same time, the owners knew they needed senior sports business leadership to augment their relatively young front office team.  The league had parted ways with commissioner Bill Peterson, who filled that function previously.
The NASL turned to Keith Bruce, the CEO of Super Bowl 50, to help guide them towards a path towards stability, growth and greater commercial success.  Bruce's official role with the league is Executive Consultant, but functionally he acts more like the interim CEO of the organization.  Bruce's focus has been on the NASL's near and long term strategy, partnering with interim commissioner Rishi Sehgal, while Sehgal and his team handle much of the critical day to day blocking and tackling of league operations.
Combined with running Super Bowl 50, Bruce's eight and a half year tenure as President of SportsMark Management Group earned him a vast network of contacts within the sports industry and the commercial sponsorship world. His time at SportsMark, a global sports event management group whose clients included the FIFA World Cup, the NFL and the Olympic Games, gave Bruce a deep understanding of the best practices that need to be in place  to succeed in a comprehensive set of areas including operations, ticketing, venues, media, sponsorship and marketing.
The progress the NASL has made over the last six months is clear.  Two new expansion franchises have been added for 2018 in the major California markets of Orange County and San Diego, expanding the national footprint.  Another one or two expansion teams are potentially on the way, with the pipeline looking strong for 2019. Midfield Press was able to speak with Keith Bruce to gain some insight into the steps that were taken to get the NASL back on track, and what the next steps are that will cause the league to continue to grow.
1. Can you tell us a little bit about your background and how you came to be involved with the North American Soccer League?
I am a 25 year veteran of the sports business industry, and have focused largely on the commercial and operations side of the sports business.  A big chunk of my experience is working with global events, such as the Olympics, FIFA World Cup and the Super Bowl.  Those roles exposed me to running sponsorship, ticketing, media, and operations to make sure that we are delivering for all stakeholders.  So essentially I understand the commercial side and the operations side of major sports, and I've been fortunate to work both domestically and internationally.  
I ran the organizing committee for Super Bowl 50 most recently, which was a wide ranging experience. I was introduced to Brian Helmick and Fabio Igel, the owners of the San Francisco Deltas,  when I spoke at a Stanford University business conference after the Super Bowl was completed, presenting the facts on what we learned and accomplished.  They invited me to meet with them at their office.  When we met, they asked me to join an advisory board for the Deltas.  I had built up a lot of relationships with the city and corporate sponsors in the Bay Area through the Super Bowl experience that could be helpful to them launching a pro team.  So I jumped in and said I'd like to do that.
From there I met with the owners of the New York Cosmos, Miami, Indy and North Carolina to get a better  understanding of the goals of the league, so I could be a better advisor to Brian and Fabio.  Through getting to know the owners, I was invited by a small group of those owners to be a transition consultation for the league to help Rishi Sehgal steer the ship after the change with the previous commissioner.  I was brought in to add stability and help the league gain solid footing and strategic direction after it was provisionally sanctioned as a DII for 2017.
2. Can you share a bit of insight into the state of affairs when you got involved and the role you have played with NASL?
I attended the Board of Governors meeting in late November where we were dealing with a lot of issues, after a few clubs had left the league.  What I saw that was encouraging was that the remaining owners worked as a unit to work with USSF to gain sanctioning.  When I came in there was a renewed perspective from the owners who had just come through this.  These owners were open to change, to taking a new approach to things.  They knew they were a Division II league and wanted to go in a new direction.  
When I came in I didn't dwell on all of what happened in 2016 and why.  We focused on what the league needed to do in the next six months to forge a new path to success.  We wanted to show the USSF that we took the provisioning sanctioning seriously, and were moving toward the goal of achieving nonprovisional sanctioning.  We also needed to repair some damage reputationally, so we focused on the core things that needed to be done.
Sometimes you have to reach bottom before you start going up again.   When I came in it was about creating forward progress and establishing a strategic plan that would set a course toward long term viability.  The fact that the owners were open to that change was very encouraging.
3. The league seems to be back on track.  Word out of the recent Board of Governors meeting is that it is almost a 180 degree change in tone from a year ago. What steps were taken to improve the situation?
It started with addressing processes that were not in place at the beginning of the year.  Instead of focusing on why they weren't in place, we just focused on getting them established.  The first goal was setting a vision for the league.  There was not really a defined perspective of what the league was and what it could be in the future.  So we needed  to establish a vision that defined the league, and where the NASL fit in the soccer world in North America.  We focused on where it could go in the future, and how we could differentiate from other leagues.  We crafted a vision statement and a set of core values the that owners unanimously supported at the January board meeting.
So our vision is about a commitment to growing our game by celebrating our fans, supporting our communities and ensuring a high quality soccer experience at every match.
We have a league that is more consistent with the international standards for the game and we want to use that as a big differentiator. We want to focus on the product on the pitch, but perhaps even more on the total soccer experience you create for the fans.  We felt we could do a better job going forward if we focused on influencing what we can control.
Next I looked at the operating model for the league, how it should work in terms of what the league takes control over and what the teams are responsible for.  We reset the working committees by placing owners on committees that aligned with their business experience and were best suited to those areas.  We reduced the overall number of committees since we were a smaller league.  It created a better governance structure, and allowed us to make decisions more effectively and quickly.  We had to move fast to be ready for the new season and address the new expansion markets.  Rishi and I agreed that instead of trying to swallow an elephant, we focused on the key areas that will improve things internally and send the right message externally.   All of these things were key issues in the first 60 days.
4. Now that the league is on more stable footing, what are the key areas to address that are necessary to take the league forward?
I would say expansion, league stability and overall commercial growth. In mid-March, just before the start of the season, there was a Board of Governors call, and they asked me to stay on  to focus on expansion and bringing more clubs into the league as well as to think about a commercial model to bring revenue into the league, which would take some pressure off the teams.
So the primary focus became about  expansion.   The logic is there will be more commercial interest when we expand, so expansion is key to address the commercial issue.  There were several expansion investor groups we were talking to that were advanced, but we went around the country to meet with more.  The expansion process for the league had lacked consistency, so one of the things we did was establish a new protocol for expansion requirements that created a new set of norms and business reviews for prospective expansion candidates.
5. The league just announced two new expansion franchises, in Orange County and in San Diego. How did the league work to bring those two new franchises on board?
Relationship building and communications were key.  We reached out to both groups in February.  We picked up the dialogue from late November.  Those conversations had gone quiet for a few weeks.  
Rishi and I flew to Orange County and San Diego in early spring to spend a day and a half with each of  them to tour their venues and meet with their investors.  We shared the new vision for the league, how we were restructuring, and how we were moving forward in a much more collaborative way and that we were excited to welcome new teams to the league.   We answered more questions than we asked in the first meeting, and we needed to.  I think that was important.
We really got to know the ownership groups in both markets, as well as the Club 9 Sports people who were involved.
Obviously our focus was on Orange County and San Diego because they were financially solid; we liked their marketing approach, we liked their venues, we liked how they wanted to work with each other to be successful and we liked the business acumen of the groups.  We liked that they had strong soccer people like Michael Collins in Orange County and Demba Ba and his group in San Diego.  You look at that lineup and it had all of the ingredients we were looking for.
6. Expansion is clearly an important priority for the league. One area that several people have talked about is that the vetting process for expansion groups has gotten more thorough.  Can you share some specifics on the process for attracting and then vetting expansion teams?
One of the missing pieces to put in place was a formal information memorandum of what is required for an expansion franchise.  There wasn't one.  So we put together a 11 point business plan that was a set of elements that we needed to see from an expansion group in order to put them before the Board of Governors for consideration to join the league.  It also gave us a way to compare consistently across groups.  
Teams have to show us a viable venue plan. If the path to a good venue is defined, then an expansion team can more easily sell tickets in advance, and tell people where they are going to play. The plan should also include items such as a  profit & loss forecast, research on the marketplace's potential fan base and how they planned to market to the region to generate that fan base.   We needed to see that they are financially viable, that they have investment capital, a solid marketing plan and they understand the soccer community in their market.   All of that is contained in the 11 point plan that is now policy for the league.
Another way to say it is that we created a more sophisticated, business oriented approach to ensure we have more thorough conversations with expansion groups.  We also needed to do this to ensure expectations were set on both sides properly.  In addition, we got the three owners on the expansion committee heavily involved in reviewing all of the expansion groups.
7. What can you share about other potential expansion groups and when we might see them join the NASL?
What I can tell you is that we are continuing our aggressive approach to expansion, but also through the lens of the disciplined vetting process.  We are looking at ownership groups that have expressed interest in us, but we are also proactively working to find the right markets that fit the right needs for the league.  It is obvious we have gap in the Central Time Zone, so we are looking at markets that address that.  We are strong on the West Coast now, and we have six teams in the Eastern Time Zone.  We need to fill in the middle.  We hope to be in a position to announce another expansion franchise coming into the league for 2018 at some point soon.
8. NASL has lost teams in each of the last two seasons.  Do you anticipate any teams leaving NASL before the 2018 season?
We certainly hope not.  With the structure of the NASL being what it is, each owner owns his club and equity.  They have the right to participate in the league.  We just had a very successful Board of Governors meeting with 100% attendance.  We accomplished a lot.  We feel good about the unity among the owners.
9. Bill Peterson said 20 teams was the endgame size for NASL. Is 20 teams still seen as the right size for the the league?
I don't know if there is a real hard number there in terms of how many teams make the right size.  Clearly the league needs more teams than we have now.  Whether we need to double, I don't know that is necessarily correct.  Quality is more important than quantity.  We need to have teams with sustainable models that are growing and expanding their fan base in their markets.  We don't want to rush too quickly.  I don't know if there is a magic number.  I know it would be ideal to be in the 12-16 club range in the near future.  I wouldn't say we have to get to 20 teams or stop at 20 teams.  I think there is a lot to be learned from MLS's thoughtful approach to expansion.
10. Rishi Sehgal said on Sirius XM that Jacksonville is close to a new owner.  What can you share about this ownership group (for example, local ties), and when can we expect to hear an announcement?
I think the good news on Jacksonville is that we have had good conversations with a few good potential buyers in the past few months.  We met with another interested group recently.  We ultimately want someone who brings the right balance of everything that you would look for in a buyer of a franchise in this league.   Rishi has been continuing the dialogue the past few weeks.   We hope we will be in a position to announce a new owner for Jacksonville at some point soon.  
11. Beyond expansion, what are some of the commercial opportunities that exist for the NASL going forward?
I think it is a sequential process.  In order for us to have a valid commercial proposition, we have to have critical mass.  We focused on expansion first, to make sure we have healthy teams and add more teams to the league.  This way we get have more markets for a sponsor that really wants to have a national strategy.  Our commercial strategy is to have clubs in major markets and the large audiences that come with that.  We've focused on this sequential one-two proposition to get our expansion efforts in place so we can have more viable discussions with commercial partners.
In the near term, we believe the Championship is a good sponsorship opportunity for companies.  We are going to test the water to see what type of interest there might be there.  In the meantime, we will finalize our expansion process and then we will have a different story to tell in 2018.  The same goes for the broadcast and digital departments.  We need to make the NASL more accessible to fans.  We streamlined this year with beIN broadcasting games of the week all year and ESPN3 handling digital.  We want to expand on those efforts we put in place this year to make it easier for fans to understand and know where the NASL is going to be on screens during the weekend.  We need to grow awareness.  Those are key ingredients to building a successful commercial platform for the league.
12. San Diego is building a modular stadium.  Sacramento and Phoenix in USL have seen tremendous success with modular stadiums.  Do you see more NASL clubs building modular stadiums in the future?  How can a modular stadium that the club controls impact its success?
I personally think the modular stadium is the wave of the future for clubs and smaller sports teams that need new, but much smaller and less expensive venues. I have some experience working with modular stadia from the recent Olympics and World Cup campaigns. The Olympics now relies on these modular, pop-up style venues to accommodate fans in a high quality environment. It's pretty amazing how quickly they can be designed, constructed and then taken down or moved.
Modular stadiums have several advantages in that they are easier to permit, faster to build, they can be modified or expanded as needed, and they are much less expensive to construct. And you have more and more architectural firms that bring experience in building some very innovative and modern looking modular venues. We loved the San Diego design, being done by Populous, who is one of the leading sports venue architecture firms in the world. I think more clubs who are in need of a new venue should consider modular stadiums, as they getting more and more sophisticated every day.
13. One of the big news items of June was that a new Division III league, the National Independent Soccer Association, was announced.  NISA is founded with the intention of providing an incubator for clubs to start smaller as professional operations and eventually grow into NASL.  How has NASL received the announcement of NISA?  Have you discussed a formal relationship yet?
We have not discussed a formal relationship yet with Peter Wilt, but Rishi and I anticipate having a discussion with Peter to learn more about the objectives of NISA.  With any new league, we want to be welcoming in tone and understand the motivations of a new league coming in.  That said, we have been focused on our own goals, and getting our own house in order.  
14. MLS and USL are forming an affiliation model similar to major league baseball and minor league baseball. Do you think the vision Peter Wilt articulates with promotion and relegation between leagues like NASL, NISA and a professionalized fourth division created out of a league like NPSL could offer the American soccer market a differentiated product to take interest in?
I really don't want to speculate on someone else's vision because there are so many factors at play with promotion and relegation.  There are a lot of people who want to see that happen.  I believe that promotion and relegation is only going to happen when the timing is right, the resources are right and clubs at all levels want to participate.  There are so many things that need to happen to get the house in order to be ready for pro/rel.  We need to be looking at the building blocks to put in place to get there, when it makes sense.  
15. What are some of the ways that the NASL can collaborate with MLS and USL?
We're open to any and all ideas on that front.  I think the US Open Cup this year has been a really interesting experience.  The NASL and USL have both realized great success in the Open Cup.  I think it is great for the game.  I think we just have to start there and be open to new things.  I think we have to recognize a rising tide can raise more ships.  From our point of view, our owners, Rishi and myself think there is always an openness to look at ways to collaborate.
16. How is the search for the commissioner coming along?  What do you think the leadership structure of the NASL will look like in the future?
I think the owners are happy with the current leadership structure in place.  They extended my role through the first half of the season and elected to keep Rishi in the interim commissioner role. We are also in the process of bringing on an executive to handle club services and expansion.  In August or September, the owners will convene and make a decision on what to do in terms of the permanent commissioner role.  Right now we are all focused on making progress on our key strategic objectives.