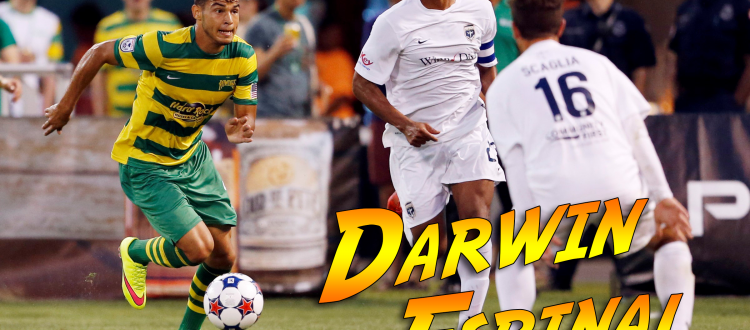 Hidden Gems: Darwin Espinal Should Be On Your Team's Roster
Back in 2015, Rowdies fans were abuzz about the hiring of coach Thomas Rongen, GK coach Stewart Dobson, kit-man Malcolm, assistant coach Eric Arbuzow, GM Farrukh Quarishi, and above all, the new injection of both talent and optimism into the roster. It was a mix of both old players and new, with castoffs like Maicon Santos returning to form, and new comers like Darwin Espinal (22) taking up the front of the attack. Santos would later move on to Ft. Lauderdale after the dismissal of Rongen later in the year, but Espinal disappeared entirely, not even making the 18 under new coach Stuart Campbell. After a stint in the NPSL with the Rowdies reserves, Espinal was released without a destination. It wasn't until the 2017 US Open Cup, that both he and Jeff Michaud, were discovered playing for the South Florida Surf of the PDL – coached by Eric Arbuzow. Under this new banner, Espinal and Michaud have been very successful, giving the Surf a very close match against NASL league leaders Miami FC, and dominating much of the PDL in the process.
Midfield Press, with the assistance of former coaches has reviewed and compiled a list of strengths and weaknesses to give a fair assessment of Darwin Espinal, coming to the conclusion that such a young talent deserves a second chance in either the NASL, the emerging NISA, or even the USL.
Darwin Espinal (22)
Position: Left Winger (Midfield) 4-5-1
Pro Experience: Tampa Bay Rowdies (2014-2016) 5 Caps, Honduras National Team (U-23)
Strengths: Speed, change direction, unbalance defenders, unique ability to defeat players inside and out. Power, strength, great feet. Can be coached effectively.
Reminds You Of: Unique. No pro-comparison
Weaknesses: Defensive responsibilities. Gets caught watching the game. Tactical awareness requires more coaching.
Intangibles: Absorbs the game quickly, but stays involved when he's not part of the run of play. Genuinely enjoys the game.
Highlights:
Rowdies v Cosmos – https://youtu.be/sGZ_oCo88_8
Rowdies v Benefica – https://youtu.be/-rTshtFh_KM
Rowdies v Stoke City – https://youtu.be/2ETuYwrliYk
Rowdies v San Antonio Scorpions – https://youtu.be/O_7UuGnRd94
Honduras v Columbia (assist) – https://youtu.be/jn-K_E8irzw
Rowdies v Sporting Lisbon B – https://youtu.be/Z6-63cILxKg
Background:
Darwin was brought in to the Rowdies at the request of then assistant coach Eric Arbuzow, under Thomas Rongen. Coach Rongen saw the potential of Espinal and gave him significant playing time despite his age and lack of experience. His deceptive speed and nimbleness off the ball, changing directions and making defenders miss paid dividends in the early campaign of 2015, but with the dismissal of Coach Rongen, interim coach Stuart Campbell altered the starting lineup, relying heavily on established veterans rather than youth. Espinal was sent down to the freshly established NPSL reserve team, but did not return to the D2 side.   His absence was felt by not just the fans, but the team as well, where a failure to score goals became a significant hindrance.
Conclusion:
Age, speed, health, agility and tenacity are all accurate descriptions of Darwin Espinal, and any team in the NASL, USL, or future rosters of the NISA who are looking to compete by complimenting their starting lineup, should heavily consider signing him as a franchise player. Versatility playing as a true #9, or as a left winger makes Espinal a rare commodity capable of scoring during the run of play.  With a tremendous upside and capability to make an immediate impact, Darwin should be on the radar of every GM and scout in professional soccer.
Contact: Darwin is currently playing for the South Florida Surf, and can be contacted via the team's front office at (561)713-6900.
UPDATE:  Per the South Florida Surf's Twitter update, Darwin has been signed to the San Jose Earthquakes via their affiliation with Reno 1868FC, through 2020.