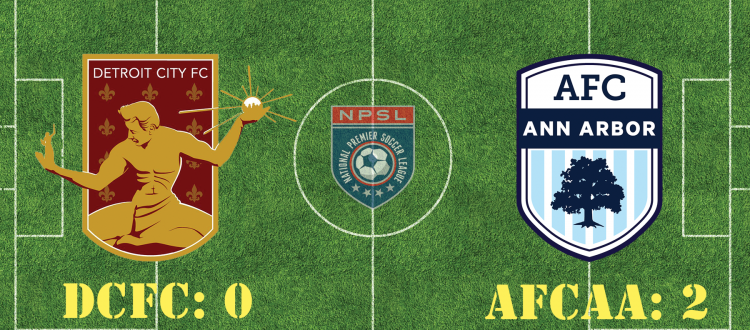 Suarez-powered AFC Ann Arbor sprint by Detroit City FC, 2-0
If there was any doubt before game how serious Association Football Club Ann Arbor was before hand, it should be dashed as they kept up their streak of two goal advantages,behind two strikes from their on field leader, "Super Dario" Suarez, taking them to the top of the table with a 4-0-0 record (12 points), while dropping Detroit to 0-2-1 (2 points).
Play began in the 21st minute between the two Midwest Great Lakes foes as Roddy Green of Detroit found a lane towards the AFC Ann Arbor goal, but had his chance steered away by the interior defense. Two minutes later, DCFC Captain Dave Edwardson picked up a yellow card after baseball sliding into former City forward Alec Lasinki.
Lasinski would get his chance for revenge as he stole the ball from Kervin Kenton, but as he sprinted towards Detroit's Colin Miller, his shot split the uprights…which would be three points in the other version of football, but not this one.
The first shot on goal of the game came in the 31st minute as Edwardson fired a long pile driver at the AFC net, but keeper (and community stalwart) TJ Tomasso was able to punch the ball down and corral it.
AFC Ann Arbor's first real chance came in the 38th as Suarez started a counterattack, and started a perfect pass to Lasinski, but Lasinski hesitated a touch too long to shoot and turned a pass in to no one.
Suarez's first goal came in the 40th minute as Lasinski triggered a counterattack (see a trend here?) , and the Cuban dashed down the left side of the field. He took a few dribbles, before steadying himself against the oncoming pressure of Zach Bock and sliding home the goal far side.
Detroit almost came back and capitalized later as GK Tomasso handled the ball right outside of their box. After a brief discussion, the head official ruled that a freekick would be the only penalty, no booking. Cyrus Saydee's impending kick almost caught the head of a wide open Dave Edwardson far post, but the result was a goal kick.
Worrisome moment for City as the captain Edwardson had his shot stopped harshly (but cleanly) by Tendai Jirira (Midwest Combine alum), but seemed to come up a little lame after. He would exit the field for a moment before coming back on.
After a halftime rain show, play resumed and City had another opportunity to score off of a free kick right outside the AFC box, buy Saydee's kick hit the wall, and Edwardson's follow up was not even close.
[https://www.youtube.com/watch?v=np4Tddw2n2s]
The play of the game happened in the 61st minute, as Jesse Muskwe (another Midwest combine alum) played a ball to Suarez on the left wing, via a Jirira dummy move.Suarez took one touch and laced a beautiful curling strike in the top left corner.
Soon after, the referee lost control of the match. Tommy "My Favorite" Catalano came on for Dave Edwardson in the 63rd minute, as proceeded to antagonize the AFC defense, but a less with his play, and a lot more with his antics, including a moment in the 68th where he bumped Lasinski into the bench area, and the former City player took exemption from it. A scrum happened, and it appeared that Catalano bumped the head official. *IF* that is true, that is a red card. No matter how upset you are, that CANNOT happen. Lasinski was given a yellow for his part in the action.
Another yellow was handed out to Detroit's Jeff Adkins in the 71st, after falling prey to a gorgeous dribble move by Suarez. The Cuban went through Adkins and the Butler alum did the thing we all do after someone dribbles by us: hold the player.
The rest of the game featured a lot of pushing and shoving that frankly, should have been stopped, especially the shoving done by Catalano of AFC's Jimmy Fiscus….while they were 20 feet off the pitch retrieving a ball from underneath the scoreboard. It seemed that after they didnt handle the adversity of a slightly better team very well.
2. We don't handle adversity well. Once the opponent adjusts to our style and has some success we seem lost and don't know what to do.

— Boys In Rouge (@boysinrouge) May 21, 2017
For AFC Ann Arbor, it was great chance to exercise some demons as they had not beaten City before. Settling for a 1-1 draw one year go on the same day at Keyworth Stadium, and losing to City in a disappointing 3-1 loss the last time they played at Hollway Stadium.
Both teams next leageue match is against Grand Rapids FC, AFC Ann Arbor on the 29th of May, and Detroit City on June 2nd. City's next immediate match is the very special international friendly match against Northern Irish club Glentoran FC, Saturday, May 27th.