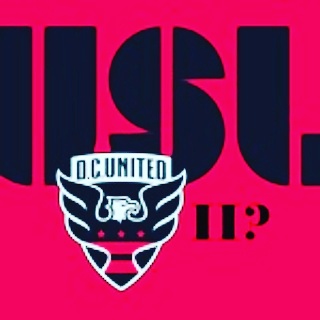 Diverging Paths for United: What Branding Direction will D.C. United's USL Team Take?
DC United could be fielding a USL team as soon as 2018, Steven Goff of the Washington Post reported. That would bring 11 USL teams fielded by MLS.
The status quo format for the MLS reserve team has been shared location and branding with an accompanying II or 2. While those teams, like the first USL reserve team, LA Galaxy II and the first reserve team champion of USL, Red Bulls II, have had success on the field, they have failed to garner significant fan support.
In fact, five of the six lowest attended clubs in USL were MLS 2 teams.
A parallel exists across the pond. Notably, the Premier League clubs have experienced similar issues of fan support and passion for their reserve teams. While one of the issues was the developmental gap—absent from the early USL reserve teams—both leagues have struggled to persuade fans to show up and support the reserves.
Achieving the support is an uphill battle. Fans know that the product on the field is not particularly exceptional and at the same time there's no particularly unique identity about the team likely to excite them.
In the face of these struggles, the Premier League just revamped their reserve league, rebranding it Premier League 2. Clearly, the Premier League is trying to associate its cachet with the reserve league and the expansion of the age group to the U23 helps not only to increase development opportunities, but also hopefully so as to encapsulate better players.
MLS clubs have also begun to take different approaches.
Just this past year Sporting KC and the Philadelphia Union founded Swopes Park Rangers and Bethlehem Steel respectively. Both act as reserve teams, yet have their own unique identity and location.
So while USL champions Red Bulls II had a measly average attendance of 587, the first year Bethlehem Steel and Swopes Park Rangers achieved average home attendances of 2,573 a game and 1,753 respectively (Good for 13th and 19th place out of 29 teams in USL).
As the numbers suggest, unique brand identity has its advantages.
MLS's Houston Dynamo added its own spin on the USL-affiliation model with Rio Grande Valley FC last season.
Rio Grande Valley ownership maintained business and marketing autonomy while the Dynamo controlled on-field personnel matters. At its core, the arrangement is not all that different than those of Major League Baseball teams and their Triple-A affiliates.
DC United would be wise to explore the latter opportunities instead of opting for the simple II system. For a franchise that hasn't exactly been flush with cash over the years, shying away from splurging on designated players and operating a pay-for-play youth academy, disregarding the sales and merchandise side of the reserves would be foolish.
II teams are for those who exclusively want to focus on youth development and have enough money that reserve team profit margins aren't an issue. For teams, like the Sounders and Galaxy, competitiveness takes precedence; their first teams attract enough money to compensate for any losses they would experience from lack of interest and lack of attendance towards their reserve teams.
It's unlikely that putting a reserve team with the II moniker would attract any meaningful attention in a crowded D.C. sports market. United attract relatively little attention in the sports market as is. A reserve team would make almost little to no impact.
However, putting a uniquely branded team in nearby Montgomery or Prince George's County would make a world of sense.
Both counties are quite populous, with Montgomery County containing just over a million inhabitants and possessing a number of strong youth academies for possible affiliations. With such a market size, there is certainly room for a professional sports team in one of D.C.'s surrounding counties.
Montgomery County had a professional team, Real Maryland, in the old USL second division from 2008-12. Lack of quality on the field, inability to effectively market the team and secure a permanent stadium doomed the franchise.
Though Real Maryland folded, their attendance increased each year. The team started with just over 600 fans a game in its inaugural year and finished their final season averaging more than a thousand.
It's not a stretch to believe a DC United-affiliated team in Montgomery County could draw 3,000 or more a game in these soccer prosperous times for the U.S.
The evidence is there in the Lehigh Valley and elsewhere that uniquely branded reserve teams are far more likely to draw and be fiscally effective than II teams. As a result, DC United would be foolish to not consider the more recent iterations of USL Reserve teams and field a uniquely branded team in Montgomery or Prince George's County.
With all the open overtures that the local government of Montgomery County and Silver Spring specifically have been making to build a downtown arena to try and attract a minor league hockey team, a soccer team actually approaching the county would no doubt be treated receptively.
Furthermore, with the significant Latino communities in Takoma Park, Germantown, and other parts of Montgomery County, soccer has a unique position relative to a sport like hockey.
Considering the suitable median income and demographics to support such a team, it seems a no-brainer that DC United would field the team outside District lines.