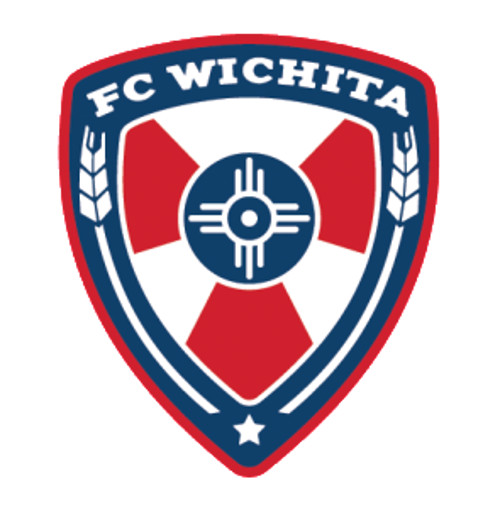 FC Wichita Draws On Local Soccer History While Building For The Future
XI Questions With… FC Wichita 
Wichita, Kansas has a soccer legacy dating back to the late 1970s. The Wichita Wings of Major Indoor Soccer League drew crowds of 9000+ on a regular basis, through the end of that league's run in 1992. After MISL, the Wings continued on in the indoor game for another decade with less box-office success until they eventually folded in 2001. However, over 20 years of professional soccer made a lasting mark on the city. FC Wichita looks to carry the legacy on, this time in the outdoor game via the National Premier Soccer League. 
FC Wichita was founded by Blake Shumaker and two partners, including former Wings player Larry Inlow, to provide more options to the area's many soccer players. FC Wichita has been met with enthusiasm from the local community, who often fill or come close to filling the 1853 seats at the Stryker Soccer Complex. 
The city plans to invest as much as $20M into the clubs current Complex, which will see a stadium built on the grounds that could seat 5,000 spectators with the ability to expand up to 10,000 in a second phase. The stadium investment will open the door to bigger things for both city and club with 12 tournament fields including in the planning. FC Wichita already has more than 70 agreements in place with out-of-state youth clubs who will attend future tournaments in Wichita throughout the year. 
For the time being, FC Wichita's focus is on developing soccer talent in South Central Kansas and laying a strong foundation for the future. The club operates at a high standard, providing players with professional atmosphere and support systems during training and on game days. The club recently announced a women's team that will help broaden its impact on the community and lead the way for the launch of a girls academy during the summer of 2017. The girls academy will co exist with the current boys club which has already proven to be the strongest boys development system across all ages in Wichita. 
Midfield Press was able to speak with Blake Shumaker, Managing Partner of FC Wichita to discuss the club's past, present and future. 
1. How and why was the team founded? 
The club was founded with the idea that there was a lot of talent in Wichita, but it needed to be organized. We felt we could grow the game at a higher level here by putting some organization around it. We looked at proven models overseas, and we've tried to emulate that somewhat. We saw ourselves in the soccer landscape as a city that will become a solid development tool for professional clubs and colleges immediately. Long term, we have a lot of great soccer cities within 2-6 hour drives – six or seven of the United States biggest soccer hotbeds. We want to become a neutral destination for teams from cities like Dallas, Denver, Kansas City, Oklahoma City, Tulsa and St. Louis. 
2. What venue does the team currently play in? 
We play and train at Stryker Soccer Complex which is a soccer specific stadium with 12 grass fields. The capacity of our stadium is currently 1853. We are going to invest more in the facility to professionalize it based around both an academy and professional model.   
3. What is the sports/entertainment competition like in Wichita? 
The biggest drawing card in the market is Wichita State men's basketball. They truly embody the hard working mentality of the locals. We also have a hockey team named the Thunder, an independent league baseball team the Wingnuts, and an indoor football team. 
We see huge growth in local soccer on the horizon. The Wichita Wings were one of the oldest soccer clubs in the United States, so we have a long history of soccer here. We had world class players back in the 1980s make Wichita their home and now there's more registered youth soccer players here than any other sport. Still some of the old Wings are on the staff and in the ownership. The Wings name is synonymous with indoor soccer, so while we appreciate the history we didn't wish to compete with it. We felt like getting a new identity that embodied the City of Wichita was important. Our crest and beliefs reflect and honor our city. 
4. What does attendance look like a typical match? What was your best attended match and the circumstances around it (including the attendance #s)? 
We typically have 1200-1800 per game. We can only hold 1853, so we hit that a few times. The most memorable being a match verse the Fort Worth Vaqueros in 2015 that clinched a conference championship. We won the match 4-0, and had the NPSL Goal-of the- Year when defender Kevin TenEyck caught the goalkeeper off the line on a restart from beyond 75 yards. We got to celebrate the championship with our fans, that was a special moment in our history. 
In the future our offices will be on site, so it will open the door to all local soccer fans, youth clubs and coaches. We will reach out to every local coach and player regardless of club affiliation and offer our resources. Keeping professional and semi-professional players involved in the youth soccer community should continue to grow attendance.   
5. What does the supporter culture look like? 
Our supporter group is the Air Capital Firm. It was founded by Daniel Green and Zack Light and John Ferreira. All three of these guys are big Sporting KC Cauldron guys so they understood what needed to happen to impact the game and inspire their players. The only thing holding us back is really a soccer specific stadium with bigger capacity, better concessions and a beer garden. We're getting all that with the new development. 
6. What is the long term vision for the team? 
When the facility gets built, we are going to operate our senior team as a professional side in the NPSL with all paid players. In addition we will continue to have the U23 men's semi-pro reserve team and the women's team built mostly of local players. Our ultimate goal is to  build the resources to join the NASL or the USL. 
We want to become Wichita's largest source of tourism. Having a regional destination for traveling youth teams to compete on neutral ground is easy for us because our geography. Wichita sits an equal 6 hr drive for teams from Dallas, Denver, and St. Louis, with an easier 2.5 hr drive for Kansas City, Oklahoma City and Tulsa.
7. What does the club's current investor profile look like? 
We have a good mix of business people and soccer people. We currently have three major investors who go beyond typical financial backing by dedicate additional time and resources to the club. We are always working together to identify what investors could be a good fit.  
Some local companies have seen great value in what FC Wichita brings to the community, and have chosen to support the growth. Jaco General Contractor, a world wide construction firm based right here in Wichita is a prime example of a company who invests in their cities. Jaco CEO Josh Kippenberger has supported us from day one and shares the belief that quality sports programs build community. Helping grow Wichita and its children through sports goes far beyond just athletics to our organizations. We feel like athletics leads to confidence both socially and in the classroom, which builds future leaders and contributing members of our society. 
8. Have you spoken with investors about moving the team up to USL or NASL? 
We have been contacted by a few local investors who see great value in the club, as well as a few outside investors whom already invested in professional soccer teams around the country. We're certainly open to discussing opportunities but want to be very careful when selecting the right partnership to benefit Wichita. 
9. Would the current venue hold up if you moved to USL/NASL or would you need to find a new home? If so, are there existing stadiums you could use in your area or would the investors need to build a new one?
Our initial upgrade will be to bring the stadium up to 5,000 seats. It will be extendable to upwards of 10,000 which is standard for the next level of professional soccer. The stadium will be designed with that in mind. 
10. We have recently seen informative write ups on the financial and operational aspects of successfully running a lower league team by the owners of the Kingston Stockade (NPSL) and Minneapolis City SC (PLA) in an effort to "open source" a soccer success formula to communities around the country. What are some of the most important lessons you learned and what advice would you give to folks looking to start a similar club in their home town? 
The biggest thing you can do before you start a team up is be thorough with your business model. We feel it is important to speak to local youth clubs and businesses before launching your brand. Getting feedback from potential supporters and people within your market could stop potential problems before they arise and give you a good idea of what your operational income will be. You need to make sure major line items like travel costs can be micro-managed in the early years. You want to get to year three without exhausting your funds while experiencing upward trends in all streams.  
11. What else should the readers of Midfield Press know about your club? 
First and foremost we want to take care of our staff and players, we do it to an extent that is unique among NPSL/PDL and possibly even higher level than some USL/NASL teams. We see taking care of players as part of our brand. 
At this level there aren't a lot of teams operating like a professional club. Players come in and get the comfort of housing and meals. Training starts at 8:30 a.m. everyday, when they arrive they will find our ortho, trainer, and massage therapist. After training they eat a team meal then go on their way for the rest of the day. Our players are very much in the business of their soccer health and wellness.  
Following those standards 24 players with national team caps have been rostered in the last two years alone. Now the academy players are getting great college offers as well. We want everyone to know Wichita soccer is on the rise and we are always interested in advancing local players and discussing partnership opportunities for them to do so.  
More on FC Wichita: