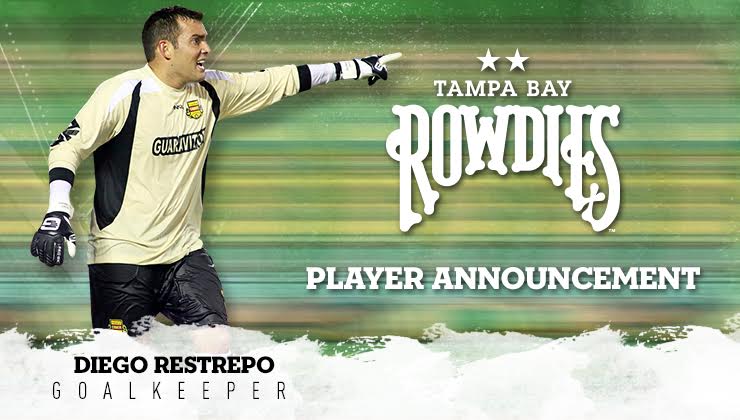 GK Diego Restrepo To Return To Tampa Bay via Transfer with Ft. Lauderdale
The Tampa Bay Rowdies officially announced today that GK Diego Restrepo will be returning to the Rowdies after a trade was negotiated with the Strikers. The details of the trade were not made public. Diego thanked the Strikers players, staff and supporters with this tweet on Tuesday morning, followed by a more cryptic but telling tweet a few minutes later, adding fuel to the previously held rumors that he was on the move from Ft. Lauderdale.
Restrepo (28) has been a fan favorite in Tampa Bay after his notable performances in goal during 2013, in which he earned Player of the Week honors three (3) times, and named to the NASL Team of the Week seven (7) times over the course of 26 matches. The former US U17 and U20 keeper tore his Achilles tendon in the preseason of 2014, and began a lengthy rehabilitation and recovery that led him to stints with the Charlotte Independence in 2015, and Metropolitanos FC in his native Venezuela, starting in goal for 16 games. In December of that same year, Restrepo rejoined the NASL in Ft. Lauderdale, debuting in a 3-1 victory on May 7th, 2016, against the Carolina Railhawks.
A product of the IMG Soccer Academy system in Bradenton, FL, his ties to the Tampa Bay area include not only his time with the Rowdies, but also with the University of South Florida from 2006 to 2008. Known for his ability to accurately predict and block penalty kicks, Diego has shown his value for both the Strikers and the Rowdies during high stress moments, particularly in Open Cup play for both organizations. He is expected to back up starting GK Matt Pickens who currently has 6 clean sheets and has played every minute of the 2016 season in net.  However Pickens is in the last year of his contract and no announcement has been made by the team.  Backup GK Chris Glodak remains on the roster, and will most likely become the 3rd keeper.
Editor's Note:  A previous title for this article stated that the move was a trade, when it was pointed out that this was simply a transfer since no other players were involved.  Apologies go out for the incorrect verbiage, and 15 points have been deducted from House Griffyndor.  Additionally, Daniel Endonino has been declared Master of Twitter for the day, and should be hailed as a hero that the internet deserves.