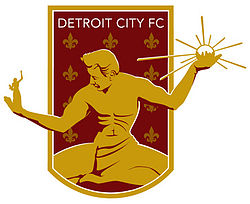 Detroit City begins a Sisyphean task of a playoff birth, Takes 4 points this weekend
When this weekend began, Detroit City's supporter's were fresh off of wanting a possible change at the helm as it looked certain City would miss the playoffs. After the whistle blew in Hollway Stadium in Ann Arbor, the chants for Ben Pirrman's praises were restored to their normal raucous volume.
Detroit City are by no means clear in their season, as they still need to over take AFC Ann Arbor for 2nd place in the conference to qualify for the NPSL Midwestern Playoffs. But a 0-0 tie to Grand Rapids FC, and a 3-1 victory over AFCAA certainly help their cause. With the four points, it elevates City to 16 points, just past Kalamazoo and directly behind the now second place AFCAA who have 18. Grand Rapids win over eliminated Dayton moves them to the top of the table for the first time all year with 19 points.
In all honesty, Detroit should be leaving with six points this weekend, as they applied a bunch of pressure Friday against Grand Rapids, but couldnt finish. The physical representation of this was in the 82nd minute when Tommy Catalano launched two shots on goal, that were both saved, before the ball fell to Danny Deakin, who crushed the ball off the top right corner and out. "Danny makes that shot 20/20 times, he'll say" Pirrman said after, trying his best to hide his frustration. "We kept our three point lead on Detroit, which was the goal coming in." said GRFC coach George Moni.  "Every game is a fight, so we can't lose focus."
It seemed that Ann Arbor could have heeded these words, as they appeared to take their foot off of Detroit's throat. In the 56th, Willie Bayemi (former of Columbus Crew SC) chased down Seb Harris as Harris shielded him off the ball. Bayemi burst through Harris, stealing the ball, and slotting home a goal to give AFCAA the lead and push Detroit to the edge of elimination. However, after the the goal, Ann Arbor seemed to relax, and Detroit seemingly picked up on it. Detroit applied mounds of pressure with it finally culminating in a Cyrus Saydee goal. It appeared he maaaaaaaay have been offside, given the protests of the players around him, but nonetheless, the Michigan State Alum chipped Fabian Veit to make it 1-1. Given that Detroit had lost recent spark plug Jeff "Jbaby" Adkins in the first half due to a collision with NPSL Great Lakes goal leader Dario Suarez, many wondered where the spark would come from. Cyrus provided that with a stunning corner kick cross that found the head of Tyler Moorman in the 81st that silenced the Ann Arbor fans, and restored the roar for City. Saydee would tack on a 3rd in the 83rd minute, in the most lemon booty way possible. Loyola Chicago product Matt Braem headed a ball back to the goalie Veit who then went to volley it out of the box. His shot caught Saydee dead in the shoulder, and the ball ricocheted some 25 yards into the back of Ann Arbor's net, stunning everyone. "We believed." Pirrman said with a wide grin. "We believed in our team, which how we stayed in the game. After Friday's result, it would be easy to give up, but we know we represent our city and our fans." When asked about the next league match against Lansing United, "It's going to be massive. Nate (Miller) will have his guys ready to go."
Surprisingly, Detroit, while down in the standings, has the easier schedule left in the season, over Ann Arbor, who has Grand Rapids and Kalamazoo left. Detroit has Lansing and then Michigan Stars at a big clash at Keyworth Stadium on the 15th of July.