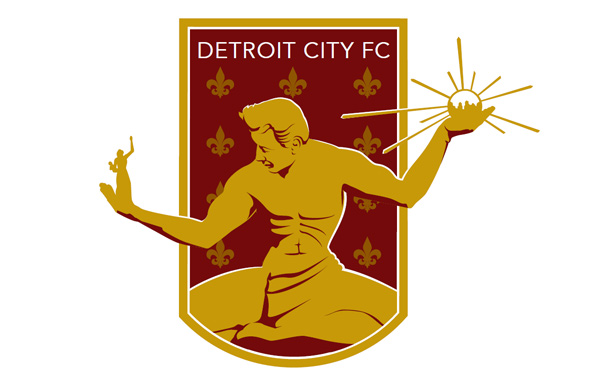 So close, yet so far: Detroit City settles for another draw, 2-2 Vs Lansing United
Once again, Detroit City FC found themselves in a match they should have put away. Once again, they did not, as Alec Green of Lansing United found himself unmarked in the Detroit box and slotted him the game tying in the 83rd minute, as Detroit City FC failed to win their first league game at their new stadium, typing LanU 2-2. The tie keeps them in the bottom half of the NPSL's Midwest Great Lakes West division, only ahead of the Dayton Dynamo, currently with 6 points on the season (1W, 2L, 3T).
The same problems Detroit has had all season manifested themselves again: their defense. Detroit has scored 13 goals this season, most in the NPSL Great Lakes West (2nd in the Great Lakes behind AFC Cleveland's 15) but they've given up a staggering 15 (last in all of the Great Lakes), including five in a stunning 5-2 loss to Grand Rapids, recently. "Offense is not our problem." said Coach Ben Pirrman. "We stress it every game, every practice. Call it bad play, or bad coaching, or whatever, we need to lock down the defensive side of the ball." This game was no different as Detroit out shot Lansing by a whopping 19-5, with Lansing's Jimmy Hague needing to make 7 saves on the day, including a few point blank ones.
Detroit almost took the lead in the 15th as Defender TJ Stephens had a 1 v 1 with Hague, but Lansing's goalie got down to make the goal line stop and collection. Detroit had some gorgeous ball movement in the 30th, that ended with City mainstay Zach Schewee firing in a gorgeous lofted cross to Tommy Catalano, but the former Michigan Bucks' shot corkscrewed left.
The deadlock was broken in the 33rd minute, as Catalano received a ball from Cyrus Saydee. Catalan ducked right, and slotted the ball low corner, just off the finger tips of Hague to make it 1-0. A small scuffle broke out in the 45th between these two teams, who have a history of scuffles. Yellows were handed out to Catalano, and Lansing's Jacob Prud'homme…who appeared to step on a downed Catalano's leg. Another yellow was given out just before half to TJ Stephens for a professional foul on Stevenson Storm of Lansing (Who is not this guy).
Right out of the halftime gate, Lansing struck. "We have to give it to our guys. We got down, but we kept fighting back." said head coach Nate Miller. Recent sub James DeCosemo found a loose ball in the Detroit box, and crushed it high net to equalize, amid the surprised supporters. Detroit pressed forward for the remainder of the match, desperately trying to pick up another goal to give them the lead, but Lansing's Hague proved to be a stonewall, as did his defensive line. "Obviously, you don't prepare for games like today, but you just have to be focused." said the goalie. Unfortunately, his defense lost focus in the 79th, as  Hague made a diving save against a Detroit City shot, but JBaby was there for the clean up to make it 2-1 for the home side. "Really can't say enough about our front four. Jeff, Cyrus, Danny (Deakin), and Tommy….Jeff has been our go to guy this season, and we've needed him." Pirrman continued.
Four minutes later, however, Lansing evened the score when a through ball forced through by Lansing found itself at the feet of Alec Green, after a deflection. The midfielder squared up, and slotted it home for his second of the season in the 83rd. Detroit had one last great chance on goal, as Tyler Stephens came on, and flicked Javi Bautista forward. But Hague, once again was ready for the shot, as he got down for the diving save. "Eventually, our ties have to stop being stepping stones." Lansing's Miller said. "We have to actually start grabbing wins." Pirrman echoed this statement for Detroit. "It's not on anyone else right now. We have to come in and lock down, not just for five minute stretches."
Up next for Detroit is Kalamazoo FC at home. Detroit faced KFC earlier and was shocked with a 3-2 defeat. "They have some athletes up top who give us a hard time, so we will need to be careful of them." concluded Pirrman.
Honestly, it would be a shame for Detroit to miss out on the NPSL Midwest playoffs, but if they continue playing the same way they have so far (which is full of lemon booty), it doesn't look like Le Rouge will even crack their lowest win total (5 games in their inaugural season, back in 2012). Another slightly disturbing matter is the decline in attendance per game. It is understandable that their opening day attendance of 7,500+ would not be something that happens at every home game, but it appears that every home game, the attendance shrinks, from 7,500+ to 6,000+ to high 4,000, to today's 4,344. But one would assume that is a testament to Detroit's power, that even 4500 people (which is more than any game last season) seems like a tad bit of a let down.