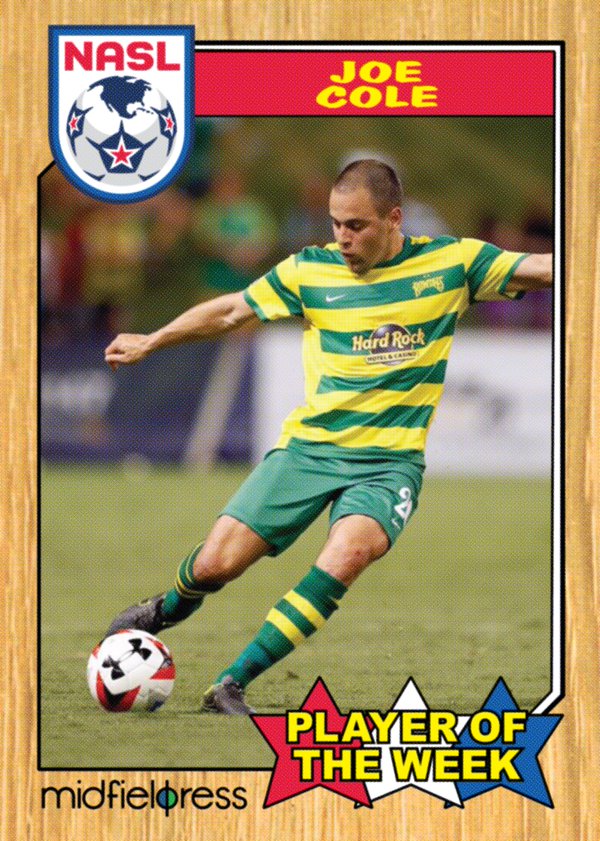 First Class: NASL Best XI, Week 9
It was another wild weekend in the NASL. Teams fell that should have won, teams won that really shouldn't have, and a draw frustrated one team's climb to the top of the standings.
Let's take a moment and consider the Spring table. Since the league instituted the split season format, it has typically taken 21 points to win the Spring. Right now, New York Cosmos have 18 and are firmly in the driver's seat to lock down the first playoff spot of the season. But the Cosmos only have one match left for the Spring, and best case scenario it ends the Spring with 21 points (New York's last match is against the suddenly in form Ft. Lauderdale Strikers). But let's consider this, the following teams all have two matches left: Indy Eleven (14 pts), Minnesota United (13 pts), Carolina Railhawks (13 pts) are all within the realm of grasping the Spring title. Of those three, Minnesota has the best chance schedule-wise to overtake the Cosmos. The next two weeks will be exciting to say the least.
For this week's Best Eleven, I would like to take a rather unorthodox approach. Your team can't win every week. Yet regardless of whether your team wins, loses, or draws, your team always announces a Man of the Match. Few things rub salt into the wound for a supporter than being prodded to vote for a Man of the Match in a draw or loss. I get why it's a staple–clubs need sponsors and the MOTM is a means to an end. So your team loses, but you get a Man of the Match (ie, the best player on your team that lost). Of course, the winning team gets to announce what a cynic would call the 'real' Man of the Match, but whatever.
So, let us celebrate the poor side this week. In goal, Rayo OKC's Daniel Fernandes only missed a cleansheet by a goal. Minnesota United's defensive midfielder Juliano Vicentini led his team to a 2-0 loss to Tampa Bay Rowdies.
Right winger Carl Haworth was able to be Ottawa Fury's most dangerous player in its 2-1 loss to Ft. Lauderdale Strikers.
The winners of those matches felt the need to celebrate their own players such as Cosmos central midfielder Danny Szetela and Tampa Bay's central midfielder Joe Cole. Cole was superb this weekend notching a goal and an assist to win out Player of the Week honor.
Somehow, Miami FC won a game; its first ever victory made possible by central attacking midfielder and only genuine attacking threat Ariel Martinez scored the lone goal against FC Edmonton (denying the Canadian team its chance to win the Spring). And= what about the draw this weekend? Well, leftback Matt Bahner became Jacksonville Armada's leading goal scorer as it drew with Indy Eleven due to Justin Braun's second goal in two matches.
This gives us a wonderful mix of player performance, Man of the Match every one of them. So now I have to scrape the bottom of the barrel to fill out this week's Best Eleven with players who performed but got no love from sponsor inspired accolades. But who really cares about defenders if they don't score goals or provide assists? I mean, really. So, I guess, we'll award a spot to New York rightback Hunter Freeman, Miami FC's centerback Rhett Bernstein and Ft. Lauderdale's centerback Gale Agbossoumonde.
There you have it, a 4-3-3 that covers those deemed valuable for both performance and sponsorship reasons. Well, except for Ft. Lauderdale, a team given short shrift this week but we all know that since he arrived its been Ramon Nunez who's carried that team.