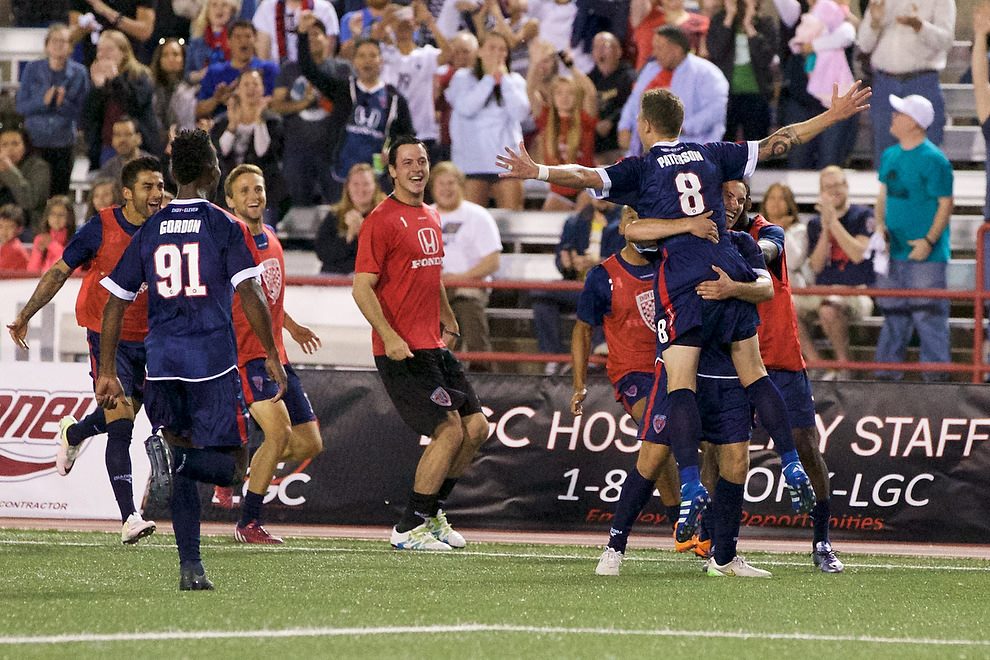 Indy Routes Minnesota United 4-2 at Home
INDIANAPOLIS: 
As a blood red moon fills the Indiana night sky the Indy Eleven routed Minnesota 4-2 at home creating a true title race for the NASL Spring Season. For what was going to be a big game for both clubs instantly turned into a slugfest at Carroll Stadium on Saturday Night. Eamon Zayed opened up the scoring for the Eleven in the 16th minute assisted by Justin Braun which would lead on until the end of the first half. As the second half began the Eleven tacked on another marvelous goal by Omar Gordon assisted by Zayed in the 49th Minute. Interestingly the Eleven got it's real test in the middle of the second half as Minnesota would knot up the match 2-2 scoring in the 54th and 69th minutes the first goal was from Stefano Pinho assisted by Kevin Venegas in the 54th minute and finally Damion Lowe in the 69th also assisted by Venegas. Braun would score a fantastic goal in the 75th minute to give Indy Eleven the lead once more before a clash of heads between Greg Janicki and Stefano Pinho with 20 minutes left in regulation eight minutes of stoppage time was added to the second half in response.   Indy Eleven would then control the show in stoppage time thanks to a pair of cautions and subsequent red card issued to United skipper Justin Davis, the second for a foul on Mares that set up a free kick just a yard outside the area. Finally Paterson would be able to put the final nail in the coffin  bending his shot into the right side netting the final goal. This would indeed be one of the Eleven's more memorable nights compared to their first home victory against United at home in the 2014 Campaign.
Indy Eleven would take second place on the table netting a 3 way tie for first in the NASL Spring Season Table. The only thing dividing the Eleven, United, and the Railhawks are goal differentials.
Contributor's Thoughts:
This game to me was a big game changer in how this Spring Season Campaign is turning out to be. Given this was a must win game I believe that Hankinson is making the right decisions in handling this Campaign. We have a 2 game road trip in Florida to play the two bottom table clubs Jacksonville, and Miami FC to cap off May and the beginning of June. If the Eleven can manage to get 6 points out of these matches expect to see the Spring Season title being contested against the Eleven and Railhawks at Carroll Stadium on the 11th YES THE ELEVENTH OF JUNE.
Make us dream Indy! – Logan
Game Notes: 
Saturday, May 21, 2016
Michael A. Carroll Stadium – Indianapolis, IN
Attendance: 9,076
Scoring Summary:
IND – Eamon Zayed (Justin Braun) 16'
IND – Omar Gordon (Eamon Zayed) 49'
MNU – Stefano Pinho (Kevin Venegas) 54'
MNU – Damion Lowe (Kevin Venegas) 69'
IND – Justin Braun (unassisted) 75'
IND – Nicki Paterson (unassisted) 90+'
Discipline Summary:
MNU – Danny Cruz (caution) 7'
IND – Colin Falvey (caution) 56'
IND – Jon Busch (caution) 76'
MNU – Justin Davis (caution) 90+'
MNU – Justin Davis (caution) 90+'
MNU – Justin Davis (ejection, 2nd caution) 90+'
Indy Eleven line-up (4-4-2, L–>R):  Jon Busch; Nemanja Vuković, Greg Janicki (Cory Miller 74'), Colin Falvey (capt), Lovel Palmer; Omar Gordon, Dylan Mares, Gorka Larrea (Nicki Paterson 67'), Don Smart (Duke Lacroix 77'); Eamon Zayed, Justin Braun
Indy Eleven bench: Keith Cardona (GK), Marco Franco, Daniel Keller, Jair Reinoso
Minnesota United FC (4-2-3-1): Sammy Ndjock; Justin Davis (capt), Brent Kallman, Damion Lowe, Kevin Venegas; Juliano (Daniel Mendes 80'), Jeb Brovsky; Stefano Pinho, Danny Cruz (J.C. Banks 70'), Bernardo Anor (Lance Laing 70'); Christian Ramirez
United FC bench: Steward Ceus (GK), Tiago Calvano, Ismaila Jome, Aaron Pitchkolan
(Game stats courtesy of Indy Eleven)
The Eleven will soon go on a nice trip to the panhandle of Florida taking on the Armada at Saturday, May 28, 7:00 PM at the
Baseball Grounds of Jacksonville.