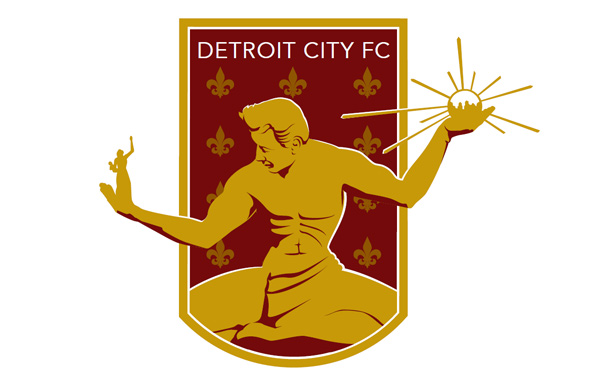 Holding on at home: Detroit City FC goes down to 10 men, holds on to tie 1-1
Detroit City FC's glorious carriage of an evening turned into a rotting pumpkin of a night in the 48th minute, and they were lucky to escape with any points, drawing with the current NPSL Great Lakes West leader AFC Ann Arbor 1-1.
Looking to get over Wednesday's lemon booty result in Louisville, this game marked DCFC's first official match in their new home, Keyworth Stadium, with a new attendance record of 7410 faces packed into the Hamtramck-based stadium.
While the festivities kept the party happy early, the play did nothing but startle home fans early as AFCAAFC winger Daria Suarez ran rampant down the left wing, early and often, usually resulting in a selfish shot, but always keeping defender Billy Stevens on his toes. Suarez's runs eventually payed off with an early yellow card in the 8th minute on Stevens as the Cuban international player was fouled for the 3rd time by Stevens.
Most of the first half consisted of Ann Arbor pressing up before the ball getting stuck on the sides, with Detroit absorbing a fair amount of pressure. All that changed in the 45th minute, when new signing, Ali Al-Gashamy, found another new signing, Alec Lasinski, in the middle of Ann Arbor's box. Lasinski controlled the ball with his shoulder….and maaaaaybe a little bit of his lower arm, before lobbing keeper Fabien Veit to make it 1-0 for Le Rouge. (Whether he did or not, isn't the point. Ann Arbor gave up on the play and let someone take a skilled shot on their net.)
Detroit went into half time up 1-0 after being out worked for most of the half, but still finding a way to will their way to a lead, despite their problems scoring on quality opponents. All this changed in the 48th minute, as a bad pass in Detroit's box had AFCAA's Yuri Farkas with a free run at the ball. To stop his shot, Brett Nason took him down from behind hard, drawing a straight red. Suarez converted the PK against Nathan Steinwascher to make it 1-1.
The rest of the match was filled with poor crosses, and exhausted players, oddly enough on the Ann Arbor side, considering they had the entire week to prepare vs Detroit's quick turn around after Wednesday's Open Cup match.
The last real goal scoring opportunity came in the 90th+ minute. After a botched Detroit attack, JP Rylah led a counter attack where he found Farkas on the left wing. Detroit Mercy Product Steinwascher lept off his line to make an amazing 2 on 1 save that would have definitely given the win to AFCAA had it gone in.
Detroit's next match is an exhibition against FC United of Manchester. Hopefully it is enough time to fix DCFC's main problem. Against better teams, they play very narrow, even in a wider field, which against teams that are quality will hurt them. This was a problem last year, that doesn't seem to be fixed. Another worry this year is how they will score against quality opponents. No disrespect to Dayton Dynamo or Michigan Stars, but their defenses were not anything to be worried about, and the hole left by the departed William Mellors-Blair seems to grow bit by bit without a single ball-scoring forward.