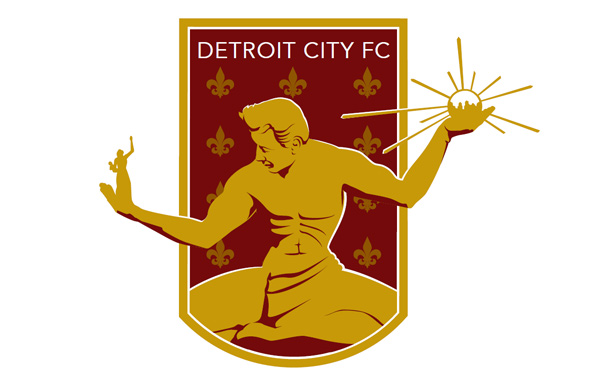 Panic at the Hilltop: Detroit City FC knocks off Michigan Bucks on PKs
Finally having their own Steve Young "monkey off my back" moment, Detroit City FC proved that the third time is in fact, the charm as they beat in-state rival Michigan Bucks 0-0 (4-3 PK) to advance to the second round of the US Open Cup against Louisville City FC this upcoming Wednesday.
First and foremost, I'm happy for Detroit City FC as it is a top quality amateur organization that is run as if they are top tier, and it's good to finally see them get further into this tournament after defeat two years ago to RWB Adria out of Chicago on PKs, and last year to Michigan Bucks 3-0. It is good to see, even while rumors of MLS to Detroit float through, the team, playing in their first match of the season, remained calm and was able to sink just enough from the spot to advance. The only travesty I see is having them play the Bucks early, as The Bucks are one of the tournament's mainstays in the David (of David and Goliath) department. The Herd from Michigan hold the record for most wins over an MLS by an amateur side, with 2 in six attempts, boasting a respectable 9 win, 10 loss record versus teams on all professional levels.
Surprisingly, Michigan Bucks held an immense amount of pressure on Detroit, with play after play resulting in keeper Evan Louro being under attack for a majority of the match,, even needing to make a few diving saves on eventual NY Red Bull player Adam Najem. The Bucks implemented the same strategy they used last time the teams played: spreading Detroit out on the wings, before attacking the middles. The plan worked to a degree as it produced chances, but The Bucks were unable to capitalize, partially because of DCFC's increased team speed in the back four, partially because the Bucks just didn't finish with quality.
Former FC Buffalo winger (and Michigan native) Russell Cicerone paced the wings, and provided a sense of flair for the Orange and White but at times, it seemed like he was one who was one of the few players who strung every thing together on the offensive end.
In the end, Bucks can only blame this loss on their inability to finish, as they finish the regulation with 5 straight corner kicks that all went awry, before penalties, where both teams showed a fair amount of lemon booty. Kicks sailing high, kicks taken poorly, etc. But when it counted, US U-20 product Louro came through and shielded his team to victory. They will head to Bellarmine University, in Kentucky to face off against Louisville City FC, who are currently sitting at #1 in the USL at 5-2-1. They also have a 2-1 record in the USOC, winning against Lansing City (a nemesis of Detroit City) 1-0 on an own goal, before going on to beat the Indy Eleven 2-0 before losing to The Chicago Fire in extra time 1-0. Lou City boasts the highest scoring attack in the league, led by MLS Journyman Chandler Hoffman (7 goals), and Niall McCabe (3 assists).