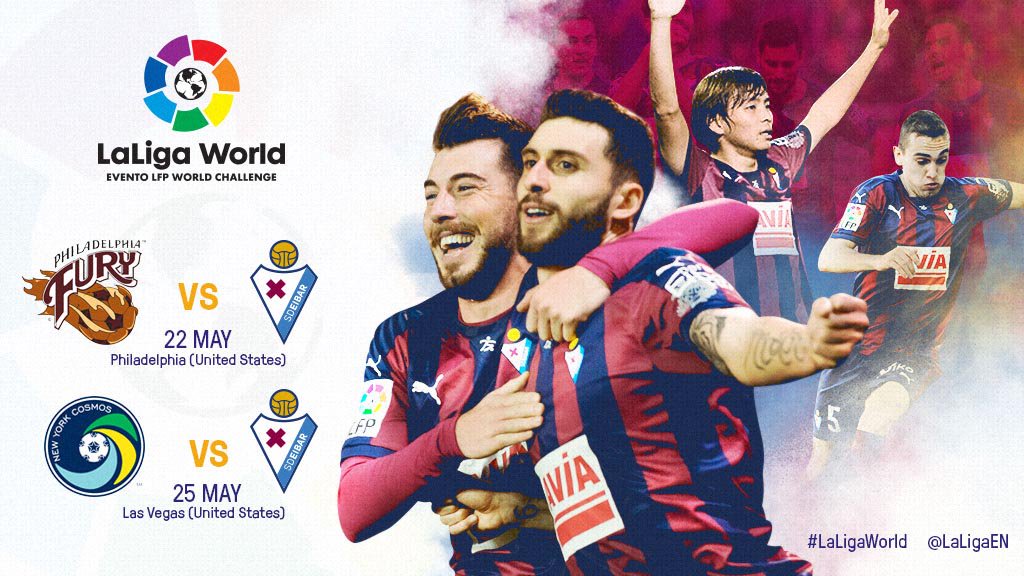 Cosmos confirm Las Vegas friendly against SD Eibar
After information leaked a few days ago, the New York Cosmos have confirmed a friendly with SD Eibar will take place in Las Vegas on May 25 at Sam Boyd Field.
The match is part of the LFP World Challenge, an initiative aimed at getting La Liga clubs exposure worldwide. Global Futbol Partners will work with them to manage and promote this and other matches in the US. Global Futbol Partners also appears to have a presence in Las Vegas.
"We are delighted to accept the invitation to play against SD Eibar," said Cosmos COO Erik Stover. "La Liga is one of the world's most famous soccer leagues and the quality of teams within it is excellent. This fixture against Eibar will be a  good one for us as we come to the end of our NASL Spring Season."
This is not the first match against a Liga side for the Cosmos who played Villarreal in 2013, losing 3-0 in a match meant to honor the career of Marcos Senna, now a Liga BBVA ambassador, on the Spanish side. The other major link to La Liga, of course, is Raúl, who retired alongside Senna last year and is now the league's manager in the US.
"From a sporting perspective, this tour allows us to continue training after the season has finished," said SD Eibar Marketing Director Gema Baqué. "It's also important to open new markets and be more international. This is a unique and historic opportunity that we couldn't miss. We wanted to get closer to our American stakeholders, thank them for their support and, for the future, look to build sponsors."
While this is great exposure for the New York side, without a doubt, this is also something where the timing gets tricky.
Visit ThisIsCosmosCountry.com to read the full article.