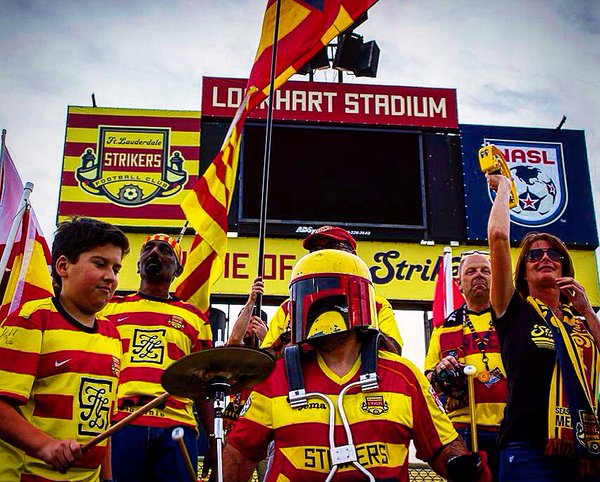 First Class: NASL Best XI, Week 5
New York Cosmos goalkeeper Jimmy Mauer was by far the best between the stick this week. Centerback Timbo for the Ottawa Fury was more than a match for Miami FC's 'offense' while managing to score the opening goal. But the Fury need to make a decision about who to pair with Rafael Alves and stick with it. For all his ups and downs, it should be Timbo. Over with the Tampa Bay Rowdies, Englishman Neill Collins has developed a superb relationship with Tam Mkandawire to give the Rowdies a defense that has been the sole reason it's been able to stay in the conversation. And then there's FC Edmonton's Pape Diakite who has come out of nowhere to raise the quality of the Eddies defense to a level not seen in awhile. However, Edmonton like Tampa only have its defense to 'brag' about. In Indianapolis, Nemanja Vukovic has shown that his time with the Sacramento Republic in the third division USL wasn't a fluke. The leftback as been a gem in attack and more than adequate in defense. On the other side of the field, I give you my first controversial pick–New York Cosmos rightback Gabriel Farfan, the creator of the goal that beat the Carolina Railhawks.
Yeah, you figured it out, I'm proposing a Best XI with a back five, a 5-4-1, for week 5.
The midfield? Relatively simple if not uninspiring to many and most fans. Even though Rayo OKC lost, central midfielder Derek Boateng and now left midfielder Michel put in excellent shifts as did Niko Kranjcar in the center of the pitch for the Cosmos and right midfielder Eric Avila for the Tampa Bay Rowdies.
It was a sad week for strikers. Jacksonville's cadre of forwards again proved ineffectual. No one in Ft. Lauderdale seems interested in scoring goals. Miami FC seems to only be able to score when offside or from a penalty kick. Tom Heinemann with Tampa Bay is massively underwhelming. Ottawa keeps rolling out three strikers every match and are slowly getting better but are still poor. So it will have to be the only striker that actually performed this week, Indy Eleven's Jair Renoso.
So what do you think? Leave a comment and tell me how wrong I am but make sure you offer an alternative.