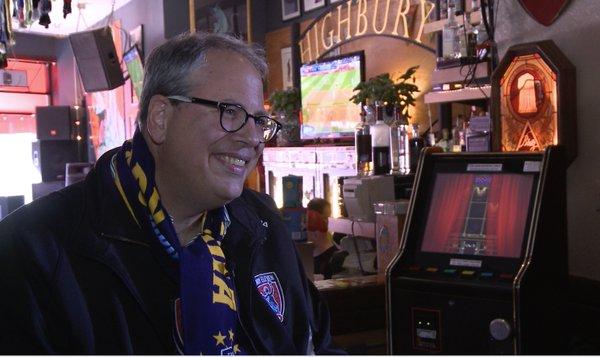 Peter Wilt Interview, Part II – The Business and Future of North American Club Soccer
In Part I of our interview with Chicago NASL CEO and Indy Eleven founding president/GM Peter Wilt, we discussed his progress with the effort to bring a NASL team to the Windy City.  In Part II, we cover the business and future of North American club soccer.  
You would be hard pressed to find anyone with a better track record starting multiple pro soccer clubs in the the United States. NASL fans will recognize Wilt for his success with Indy, but prior to that he also started up the Chicago Red Stars and the Chicago Fire.
When we spoke with San Francisco Deltas CEO Brian Andres Helmick, he mentioned Peter Wilt as one of the people that he looked to for best practices on how to successfully launch a club.  In our conversation with Peter, we have looked to extract some of that insight for the readers of Midfield Press along with learning what he thinks on topics such as MLS expansion's upper limits, the best untapped pro soccer markets, Milwaukee's pro soccer future, the Canadian Premier League, "colony clubs" like NYCFC and Rayo OKC as well as the grassroots soccer clubs in NPSL trying to make the leap to the pros.
1. You have built several very successful US soccer clubs from the Chicago Fire, to the women's soccer Red Stars to Indy Eleven.  As you embark on the Chicago NASL effort, what are the best practices and business processes that you have found are the essential ingredients for laying a successful foundation for a new club? 
PJW:  Build from the bottom up, hire talented, hard working people with good character, communicate well with all stakeholders using transparency, create emotional connections by giving fans a sense of ownership and provide good customer service.
2. There are things you can control in terms of your business processes and things you can only hope to manage around in terms of market conditions. What are the market conditions that influence how successful a team can be and how do you manage around them successfully? 
PJW: Demographics, seasonal sports and entertainment competition, media cost, venue location, transportation options, climate and economic condition are some of the market conditions that need to be considered. Answering this question fully would take a book, but a few examples:
A. The existence – or lack of – a local MLB team. It's one of the reasons San Antonio, Indianapolis, Portland and Sacramento have all outperformed public expectations. It's why I think St. Louis and Milwaukee are more challenging soccer markets than many think they are. This particular challenge can be "managed around" by focusing marketing and sales efforts on those that are already emotionally and economically connected to soccer.
B. High cost of media in a large market means relying more on non-traditional online media and grassroots marketing efforts such as street teams and partnerships with targeted groups.
C. Markets with challenging climates can work their schedule to play a few more home games into the nicer times of year and use dynamic ticket pricing to encourage sales during poor weather periods and generate additional ticket revenue during better weather periods.
3. We seem to be in a golden age of American soccer, with successful launches of FC Cincinnati, Miami FC and Rayo OKC adding to recent success stories in Indianapolis, Jacksonville and Louisville. Which untapped pro soccer markets (no MLS, NASL or USL team) across the United States do you feel have the most potential for success? 
PJW: On one hand, it's quite simple really. Take a look at the 100 largest markets in the US and Canada without pro soccer teams and target those: Detroit, Nashville, Cleveland, Baltimore, San Diego, Hartford and Milwaukee are all top 35 US markets without a pro team. Canada's Calgary, Hamilton, Quebec City and Winnipeg would all have potential for success as well. Looking at the lack of MLB in a market narrows the top 35 US list further to Nashville and Hartford. Smaller markets with strong local identification like Las Vegas, Chattanooga, Memphis, Buffalo, Omaha and others are worthy of consideration as well.
4. Part of this golden age is that we are seeing tremendous growth at the NPSL and PDL level.  Grassroots teams are starting up in these semi-pro leagues, like Detroit City FC, Nashville FC, FC Buffalo and Grand Rapids FC to name just a few that have ambitions to grow into the pros.  The trend in American soccer since NASL 1.0 has been investors starting franchises rather than grassroots clubs forming and going pro.  You have to go back to the days of the original Bethlehem Steel FC to find that here. Do you think it makes sense for investors to partner with these clubs and bring them up rather than starting a brand from scratch? Do you think these clubs can start a new trend, and if so, how would you advise them on making the leap to professional soccer?
PJW: Case by case basis really. If a grassroots group has successfully developed a brand and significant emotional connections in a community as Detroit City FC has done I think it absolutely makes sense to partner with them and grow the club into professional status together. If the local amateur club has only mild local connection with the community at large, then I believe fresh start will be less complicated and will allow greater freedom in developing the pro team's identity and community connections.
5. Do you think we will see a pro soccer team in Milwaukee in the next few years?  Who do you think will be behind it and will it be in NASL or USL? 
PJW: Yes I do…at least one. I think there are scenarios for either a USL team, an NASL team or even both ala OKC.  If Milwaukee Wave owner Mike Zimmerman is successful in getting his south suburban baseball park he will likely add a PDL team to the venue as he did in Kokomo, Indiana and that could easily lead to a USL team. A suburban USL team, especially on that side of town, would leave the city open to an NASL team in a better location that would appeal greater to young urban adults.
6. We've seen so-called satellite teams from foreign leagues in American soccer over the last decade in Chivas USA and New York City FC in MLS and now Rayo OKC in NASL.  There are rumors that Celtic FC is looking to put a team in NASL too. Do you think these satellite teams are good for American soccer?  Would it be good for NASL to partner with Celtic in say New England or Club Tijuana in San Diego, for example?
PJW: Again, I think this needs to be viewed on a market by market basis. I think international investment in the US professional soccer scene is positive. Brand development associated with the international investment can be tricky. Obviously Chivas USA narrowed its identity in southern California so much they created a micro-niche that had an incredibly small potential audience. New York City FC and Rayo OKC are extending their local brands beyond their mother teams, which provides a greater chance for long term success. Celtic, Tijuana and any other foreign club looking to establish a successful US club needs to utilize the broader base brand development that NYC FC and Rayo OKC are using,
7. Do you think MLS will stop expanding around 32 teams, and if that happens will strong independent USL teams left on the outside of MLS look to NASL?  For example, Louisville City FC is a great organization, but it is hard to see MLS accepting Louisville especially with FC Cincinnati and their billionaire owner up the road.

PJW: Good question. The dynamics and variables surrounding the growth of MLS and NASL are so great I can't even begin to predict how it may shake out. Frankly, I can imagine scenarios where not only do strong USL clubs look to join NASL, I can envision a scenario where strong MLS teams decide to move to NASL.
8. What do you think about the proposed Canadian Premier League?  Do you think Canadian soccer is better off with its clubs competing in MLS-NASL-USL, or do you think their own domestic league is what is right for our friends to the North?

PJW: I'd like to see versions of both. A Canadian development league that would be regional like the NPSL and effective in developing young Canadian talent along with a continuation or even expansion of the pro teams playing in the US based leagues that allow better competition.
9. Where would you like to see the US club soccer "pyramid" structure end up once this period of tremendous growth settles down?  With some level of strife and cannibalism happening between MLS-USL and NASL as part of these growing pains, what advice would you give to the leagues and their clubs to manage this period successfully to the best-case result for US soccer?

PJW: I think it's incumbent upon the pro teams to invest in the development of the game at all levels. That means youth clubs as well as amateur adult, futsal and urban recreational programs. The market will self-determine how the pyramid shakes out.
A big thank you to Peter for taking the time to answer our questions, and check out Part I of this interview if you missed it.
Editors Note:  We unfortunately did not properly credit the Featured Image of this article to Connor Basch / Marquette Wire.  We apologize for this oversight, and have corrected the lack of attribution.