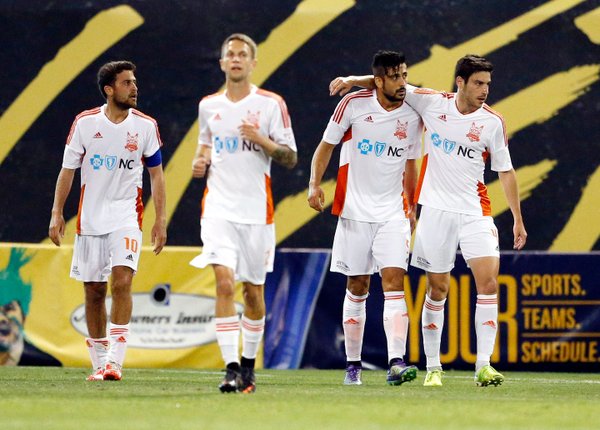 First Class: NASL Best XI, Week 4
It's gotten to the point now that every weekly Best XI is going to feature at least one Carolina Railhawks attacker. Once again, Carolina dominated its opponent. A miracle save by Matt Pickens kept Nazmi Albadawi from opening the scoring and later it was Albadawi who provided the service for one goal as well as the pass that saw Tiyi Shipalane into the Tampa Bay box to be brought down for a penalty kick. This week's Best XI takes the form of a 4-2-3-1.
Similarly, the only player for Miami FC that has gone out every week looking hungry and bursting with energy has been Ariel Martinez. Miami has been frighteningly consistent giving up late penalty kicks three of the first four matches to drop points in nearly every time it plays. Teams can turn things around quickly in the league, however. Just look at FC Edmonton, prior to this last weekend the Eddies were goalless, then they won the Canadian derby by posting two goals and a keeping a cleansheet against Ottawa. This is why centerback Albert Watson and rightback Eddie Edward make the Best XI, they each stepped up their game and it paid off.
While Miami was finding a way to lose, Rayo OKC was pressing. Defensive midfielder Pecka had a superb night notching two assists, one of which to striker Robbie Findley who scored a stunning golazo.
The battle between Rayo OKC and Miami was at least an entertaining match whereas the yet other Florida match up between Jacksonville Armada and Ft. Lauderdale Strikers was some of the most labored football in the country. As Ft. Lauderdale's manager Caio Zanardi (Coach Z) makes a case for himself to be the first firing of 2016, the Strikers players find new ways to be underwhelming. Quietly, Armada central midfielder Richie Ryan put in a quality shift trying to spring his team's anemic attack. One man can only do so much.
Which is not something that Minnesota United's Christian Ramirez believes. Going a man down not ten minutes into the second half, Minnesota players kept pressing, winning the ball, and harrying the New York Cosmos defense. In fact, watching the match it was stunning to realize that it was Minnesota that was a man down and not New York. Centerback Jimmy Ockford impressed, but should have had to. But the Cosmos were finally slain when leftback Justin Davis was able to spring Ramirez for a late winner.
https://youtu.be/nYClq2t0390?t=2m33s