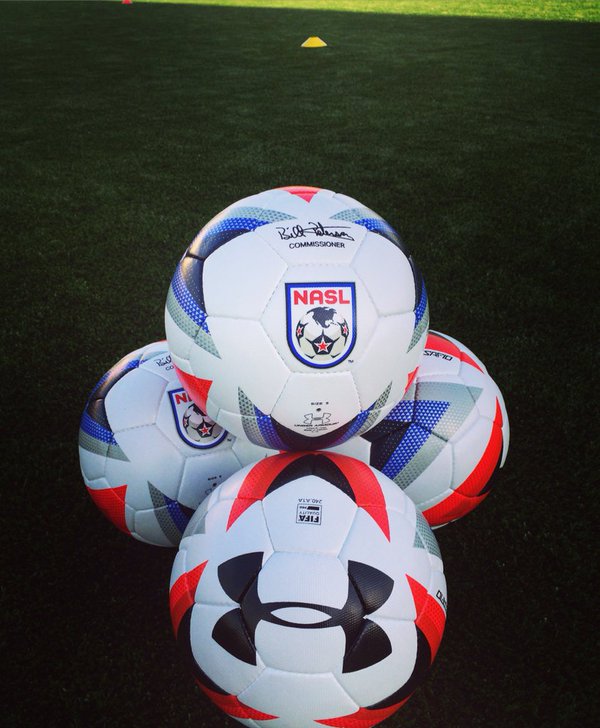 NASL Spring 2016: Week 3 Predictions
Friday, April 15, 2016
Jacksonville Armada v Miami FC
7:00 pm EST
beIN Sports
Community First Park
Jacksonville, FL
The first Friday match of the season will be yet another Florida battle. Miami FC finally climbs its way out of southern Florida, but still can't seem to bring itself to leave its home state (something that won't happen for another two weeks). As of right now, Miami has been underwhelming. The good news is that Alessandro Nesta's side have not allowed any goals from the run of play, but the bad news is they've lost both matches this season on stupid challenges in the box that awarded penalty kicks to their opponents. Momentary lapses of judgment, a too frenetic and unfocused attack, and a lackadaisical attitude towards build-up in the midfield all set Miami up to be a perpetual draw machine.
After a bye over the opening week of the season, Jacksonville had to travel to face the New York Cosmos for its first match of the season. It was rough taking a loss but the Armada didn't embarrass itself. On the pitch chemistry is what will allow Jacksonville to win its home opener. If central midfielders Richie Ryan and Kevan George can develop a fluid relationship to win and distribute the ball, if leftback Bryan Burke is buttressed on the rightside by a defensive minded fullback partner, and if Matthew Fondy can not only get service but also work one-two with whomever wins the second striker role, then the Armada will be dangerous. Those aren't big 'ifs,' but they are significant.
Last week, I though Jacksonville could pull out a draw against the Cosmos. I was wrong, but I'm still backing this team. A draw this week would seem the safe bet, but I'm going with Jacksonville to win in front of their home supporters and Squid Vicious.
Saturday, April 16, 2016
Carolina Railhawks v Ottawa Fury
7:30 pm EST
ESPN3
WakeMed Soccer Park
Cary, North Carolina
It would be fair to say that Carolina is the surprise team of the Spring. Nearly every league pundit and the supporters of every team knew that the Railhawks wouldn't be pushovers. Yet, it is fair to say that no one expected them to be this sharp and dangerous. Colin Clarke's side are stunningly well organized and unlike other squads have not just kept their shape but have been incisive in every third. Right now there is no hotter player than left winger Austin Da Luz and he will be handful for Ottawa to contain.
But here's the problem for the Fury, if you focus your attention on Da Luz, then Nazmi Albadawi will cut you, close down Albadawi and right winger Tiyi Shipalane will make you pay, snuff out those three attacking midfielders and striker Brian Shriver will just do it himself while central midfielder James Marcelin quashes your own hopes of a build-up. Simple fact is, Carolina have all of their weapons dealing damage simultaneously and it's doubtful that it will be stopped anytime soon. The only threat to the Railhawks are the Railhawks, focus will be the watchword for Clarke.
Ottawa played better last week but still looked terrible. Even though the team purports to play with three forwards in a sadly ineffectual 4-3-3, there is no striker who stands out as dangerous or even clinical. Too much is being expected out of the Fury's midfield and with Carolina's defense back to its usual shape on Saturday, I doubt Ottawa will be able to perform much better than it did in week one when it was thrashed by the Cosmos. Look for Carolina to win its third straight.
Indy Eleven v New York Cosmos
7:30 pm EST
ONE World Sports
Michael Carroll Stadium
Indianapolis, IN
The other team at the top of the Spring table is the New York Cosmos. No one is really surprised, the Cosmos are the defending champions and the best team in the league since entering. But the Cosmos haven't been challenged yet this season. Trouncing a rebuilding year Ottawa in week one and then Jacksonville last weekend aren't worth crowing about. All the Cosmos did was what was expected. Going into 'The Mike' against Indy Eleven will be a different story because it is here that the Cosmos have found a sort of bugbear.
Indy and the Cosmos draw. It's what they do. In 2014, three draws (one at Carroll Stadium, two at Shuart Stadium), in 2015, three draws (two at Carroll, one at Shuart) so it would be more than a significant break with tradition for one of these teams to beat the other. Somehow, Indy finds a a way to keep the Cosmos from celebrating. However, this could be the year something breaks. For the Cosmos, new signings in attack (striker Jairo Arrieta and attacking midfielders Niko Kranjcar and Juan Arango) have hit the ground running. Indy has reshaped its defense, and its new signings are paying off dividends immediately too.
What we'll see Saturday night in Indianapolis will be a classic battle between a good defense and a good offense. Expect the advantage to go to the team whose midfield is able to set itself apart (with Adam Moffat staking a claim as a super-sub, this might just be the Cosmos). I'm toeing the line on this one and feel another in the long line of draws.
Tampa Bay Rowdies v FC Edmonton
7:30 pm EST
ESPN3
Al Lang Stadium
St. Petersburg, FL
The Rowdies should be a better team than they are. That is a statement perhaps best summing up this organization, not just now but historically. Tampa Bay supporters will justifiably find positives in their team's first two draws of the season, but goals won't be one of them and it's goals that win games. Right now, the only offense produced by the Rowdies has been a penalty kick due more to Miami FC's negligence than anything from Tampa Bay. Quite simply, there are too many midfielders for the Rowdies not doing enough together and a bizarre commitment to a single forward (Tom Heinemann), who at his best is an accidental scorer and rather dreadful at finishing opportunities created for him.
This would be good news for FC Edmonton, a team that's gotten off to a just rotten start. Being goalless as a squad is a maddening burden. Unfortunately for Edmonton, the centerback pairing of league newcomer Neill Collins with veteran Tam Mkandawire will be a tough nut to crack. In fact, baring a sudden jump in quality from Jake Keegan or Tomi Ameobi (which is entirely possible given that both strikers have a nose for goal), I can't see Edmonton getting a goal at Al Lang Stadium.
The Rowdies have been steadily improving while Edmonton have been languishing. I can't see Tampa Bay dropping points at home to the Canadians, expect a win by the Rowdies.
Minnesota United v Ft. Lauderdale Strikers
8:00 pm EST
ESPN3
National Sports Center Stadium
Blaine, MN
He's coming off scoring a goal that was the Play of the Week, and he was Midfield Press's Player of the Week (photos courtesy of the creative mind of Mike Pendleton, @phat7deuce).
Minnesota United's central attacking midfielder Ben Speas put on a show last weekend in Edmonton. It was good to see this kind of performance from Speas as well as few other of the new Minnesota signings (right winger Danny Cruz is ramping up his attack and defensive midfielder Jeb Brovsky is staking a claim to be permanent in the Loons' line-up). But let's be honest, Edmonton did not put up the kind of opposition that one should brag about beating; it'd be uncouth. Ft. Lauderdale Strikers, however, are a team that it's never rude to beat. Yet, it's been tough for Minnesota to do so even at home.
Nessy as it's affectionately called (NSC Stadium) has been the ground where the Strikers have routinely stolen points as well as soundly beaten Minnesota. It's not quite a rivalry but it is more than a bit of a grudge match. Minnesota have to be the favorites but the team is still looking to develop that on the pitch chemistry it needs to really press for the top slot. Last year's Golden Boot winner, Stefano Pinho, will hopefully be 100% and in the starting eleven. Facing his former club will certainly be an incentive. But given how well Speas did last weekend, Pinho might once again find himself coming on in the 75th minute. It'll be interesting to see just what line-up first year manager Carl Craig puts forth, especially given the sudden tweaks and injuries to the backline.
The Strikers (who had a bye last week) need to focus and show that pitifully dull and anemic performance of week one was a fluke. Seeing Christian Ramirez and/or the attacking midfield trio of Anor, Speas, and Cruz muscle and finesse its way by the sometimes quite rash Gale Agbossoumonde and always sloppy Julius James will be interesting. So will the our Brazilians versus your Brazilians verses that may arise from the always vocal Minnesota United supporters, the Dark Clouds and True North Elite.
I can see Ft. Lauderdale stealing a point, but it feels more like a decisive home opener win for Minnesota United.