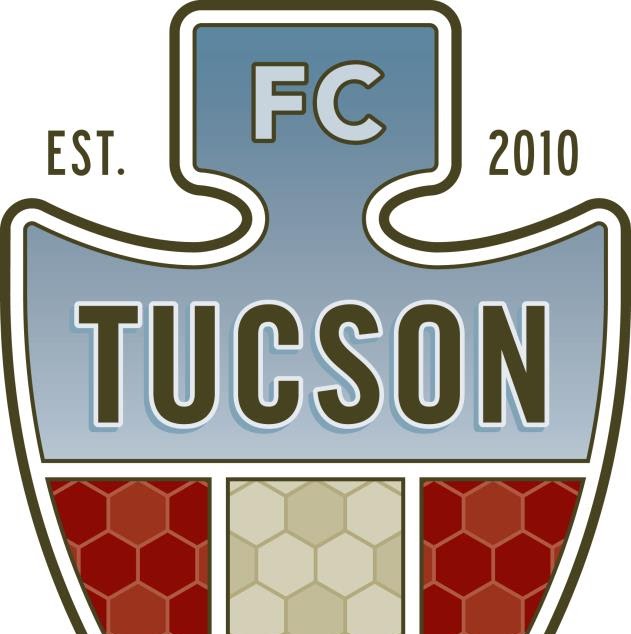 FC Tucson Translates Grassroots Success Into Steady, Sustainable Growth
XI Questions With… FC Tucson
While the NFL is the country's most popular sport, baseball has long held the nickname of America's pastime.  However across the nation neighborhood baseball diamonds are giving way to soccer pitches, and in Tucson the loss of baseball created an opportunity for soccer to grow in the desert.
Arizona has been a destination for Spring Training for many years, though in recent times the activity has centered around Phoenix.  Meanwhile AAA baseball moved on from Tucson after almost 100 years, leaving a metropolitan area with a population 1.1 million strong with fewer sports options.  Rick Schantz, Jon Pearlman and Greg Foster partnered to fill the gap on the sports scene by creating FC Tucson, a team that plies its trade in the Premier Development League's Southwest division, rivaling FC Golden Force, LA Laguna FC, Orange County Blues U-23s, Southern California Seahorses, Ventura County Fusion and San Diego Zest FC.
FC Tucson is one of the most famous soccer clubs in the nation's fourth tier thanks due to the Desert Diamond Cup, soccer's answer to Spring Training baseball.  Each year MLS teams compete in the preseason tournament as a tuneup for the season ahead.   The club also features one of the most distinctive crests in all of American soccer, shaped like an arrowhead and scaled like snakeskin.
Midfield Press was able to speak with Rick Schantz, Head Coach and Managing Member of FC Tucson to discuss the club's past, present and future.
1. How and why was the team founded?
In 2010, Greg Foster and I set out to host an MLS game in Tucson.  We both felt that since Spring baseball had left Tucson, there would be stadiums available and opportunity for our community to rally around another sport.  We had been approached by City Council Member, Paul Cunningham, who had the idea and hopes of bringing professional soccer to Tucson.  It really was perfect timing.  Through his support and our connections in the game, we were able to host the first Desert Cup (later to become the Desert Diamond Cup) in March of 2011.  The event was played at Hi Corbet Field and saw roughly 13,000 spectators over a weekend event with New York Red Bulls and Sporting KC.  The undercard was FC Tucson and Phoenix Saguaros.  After this event, FC Tucson spent the summer of 2011 playing exhibition matches as a test to see  if the community would support a semi-professional team.  In December, we announced our move into the PDL.  
2. What venue does the team currently play in?  
Currently, FC Tucson plays its home matches at Kino North Stadium.  The stadium was built at the Kino North Complex, that previously housed the Arizona Diamondbacks of the MLB.  In 2013, Pima County completed construction and transitioned the complex from baseball to a world class Soccer specific training complex.
3. What does attendance look like a typical match?  
A typical FC Tucson match has about 1500-2000 spectators.
4. What was your best attended match and the circumstances around it (including the attendance numbers)?
When opened our new stadium against Chivas USA in November 2013, we had about 2500 people there.  The stadium only seats about 2800.  It was a really electric atmosphere.  Cubo Torres played for them.  We ended up scoring in the 90th minute, a local kid who was a refugee from Somalia.  It was one of our best attended games and one of the most exciting.  It helped moved the team from an exhibition team to a more professional atmosphere.
5. What does the supporter culture look like?
Our supporters are led by the world famous Cactus Pricks.  The supporters group was established early and has been amazing at creating an exciting environment for games.   We have a couple of other groups, a one group is a little more of an English style supporter group.   We really appreciate the supporters groups because they make the atmosphere better for everyone at the matches.
6. What is the long term vision for the team?
When we set out from the very beginning, we were a bit realistic about our ownership group and what our desires were to be in the pyramid of soccer to the United States.  While we would love to see MLS in Tucson, it would take massive investment and a downtown stadium.  While those are plans of ours, they are far off.  We've looked at the way that the Portland Timbers developed as a model.  Our goal is to build a fanbase, a culture and a strong brand so that one day a someone with an extra 100 million dollars will put a MLS team in Tucson.  In the next five to ten years, we would like to be in USL.  We feel the regionalized league and lower travel help us there.  Having Arizona United up in Phoenix would help.  We aspire to get there, but we want to do it right.  We want to make sure build the culture and do it the right way.
7. What does the team's current investor profile look like?
Right now, Greg Foster, Jon Pearlman and myself are each one third owners.  We all come from different aspects of life and different angles on the game.  Jon and I are more on the technical side, coaching for the last 20 years at the youth level and high school.  I have a little more of an extensive playing experience, Jon has spent more time at higher levels of scouting and networking, while Greg, a lawyer, has more business and contract experience.  The ownership profile is strong for PDL and probably even good for USL.
8. Have you spoken with potential monied investors about moving the team up to USL or NASL?
We have talked to a few investor groups and have been approached by people who have noticed what we have done in preseason with MLS.  We aren't ready to step away, so we are looking for the right partner to let us run operations while investing in the team.
9. If you had sufficient investment to move up, would you have a preference between USL or NASL?
It is not that we would say no to the NASL, we like the aspects of the franchises owning themselves, owning the players, etc.  We think the recent partnership with Major League Soccer has allowed USL to expand a little quicker.  Being a minor league team, not having to travel east of the Mississippi would be very attractive to us.  If you have a really heavy investment group that comes in, then you could consider NASL, but the USL seems more cost effective.
10. Would the current venue hold up if you moved to USL/NASL or would you need to find a new home?  If so, are there existing stadiums you could use in your area or would the investors need to build a new one?
The complex we are at used to be the Arizona Diamondbacks spring training facility.  If we were to move up, the natural progression would be to expand.  The space is there to add another 2500 seats, which would take us up to a 5000-6000 stadium, which we feel would be perfect for a USL or a NASL environment.  Anything beyond that would require a new location.  There has been talk of using some land that the county owns for a new stadium, and they have been a great partner to us, but that is more of a long term plan.
11. What else should the readers of Midfield Press know about your team?
We wake up every day living the dream at FC Tucson.  Four years ago, I was standing on a youth soccer field on the phone with the team administrator of Sporting KC trying to schedule an exhibition.  We've reinvested every penny each year back into the club.  We're three guys who love the sport and believe in American soccer.  We're really happy with what we've done and we are going to keep pushing forward.
[youtube https://www.youtube.com/watch?v=JqRQNhAye14&w=560&h=315]
A big thank you to Rick for taking the time to answer our questions, and look for more "XI Questions With…" NPSL and PDL teams in the future.
More on FC Tucson: