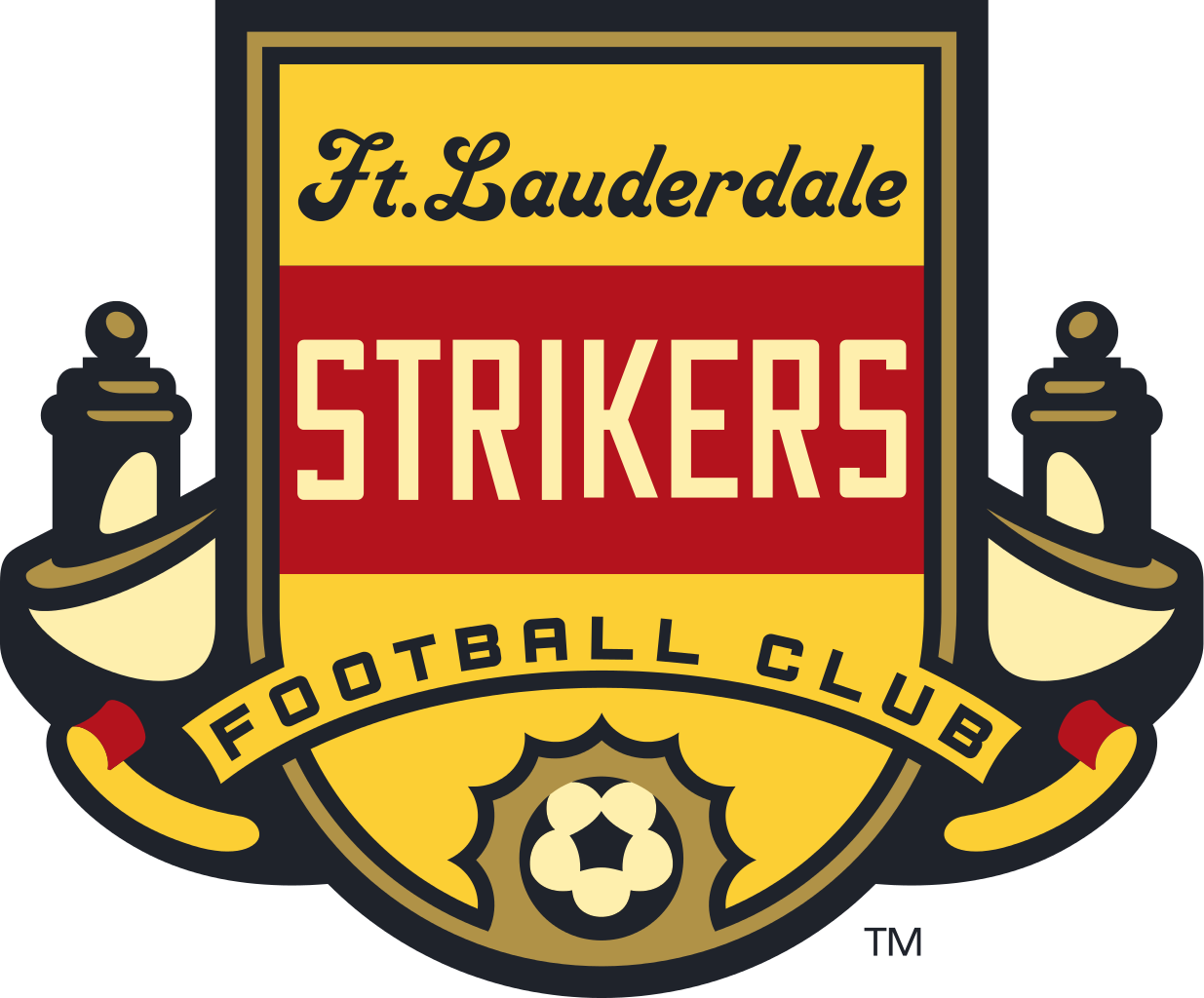 "State of the Strikers" February Presser
Write up created by Matt Abbey
In Attendance
Luis Cuccatti (Managing Director)
Steve Bernasconi (Communications Manager)
Caio Zanardi (Head Coach & General Manager)
Phillip Dos Santos (Assistant Coach)
Olaf Henke (U23 Head Coach)
Absent
Sean Guerin (CEO), having meeting with City of Fort Lauderdale…..about stadium?
Florida Cup
Economically the results were below expectations.
TV & Media coverage was good, especially in Brazil & Germany.
Planning to compete in this completion for at least 5 years.
They expect more teams to compete in the future, Disney wants more games.
They expect some different teams and a different format next year.
Overall good team performance from the Strikers considering the lead time for training.
R9 Academy has a deal in place with Disney for building an academy.
Attendance at Lockhart for FL Cup game was approx. 3,000, with an estimated 2,600 paying customers. Resulting in a little above breakeven financial outcome.
Players
Currently 24 players on roster.
Expect to reach 26 players before season starts.
We have reached our limit of 7 international spots, but Kléberson is in the process of getting his green card, so if we did need a spot for a new international player they might consider asking the league for a waiver.
All players are on 1 year + 1 year option, or 2 year + 1 year option contracts.
Several players have buy-out clauses in their contracts, no names mentioned but was closely followed with specific praise for Matheus, Dalton & PC…..read into that what you want!
Players are now on "full day" schedules starting at 7am.
Players are no longer housed at the Sawgrass Grand Hotel.
Players all now have house and car allowances, 20 already have apartments and the other 4 are in the process with the team helping due to credit history issues (non-transferable from foreign countries).
U23 NPSL Team
10 "kids" signed already.
2 more open tryouts are planned.
Opening game will be vs Miami United in either the 2nd or 3rd week of May.
All home games will be played on Wednesdays at 7pm at Lockhart.
Training 2 to 3 times a week.
In partnership with Fort Lauderdale FC (FTLFC) as an investment, joint venture paperwork is in process. Plan to use the partnership to develop local talent.
R9 Academies will be another resource for talent; Luis referenced the Orlando deal again and mentioned that a Pompano Beach location was in process too.
FTLFC currently have approx. 400 kids in "travel teams" and 150 in the U5 thru U8 development program (recreational league but coached by FTLFC coaches not parents). Development league has 2 seasons in Spring & Fall to try and promote year-round training.
Currently have 50-50 split between girls and boys at FTLFC, question to Luis of "can we expect a women's team?" was met with "maybe in future…..if it makes financial sense".
Coaching methodology of FTLFC and U23 will be consistent across all age groups with Strikers 1st team, but not rigidly sticking to same formations etc. a la Ajax.
China Trip
Bruno Costa (Assistant GM and Head of Scouting) is already in China and has conducted multiple tryouts, with more to come. The goal of these tryouts is to identify possible player acquisitions.
34 staff travelling to China including Luis, all the players, technical staff, Hot Shot, Steve and Strikers TV crew.
The Chinese government paid for the trip in total, nothing out of pocket for the Strikers.
They will wear the pre-season Inaria black uniform.
Trip specific kit sponsorship as follows;

New Chinese sponsor on top of back of shirt.
R9 Academy logos on both arms.
mkt on shorts.
New Strikers "catchphrase" "Join The Club" in Chinese on shorts.

Guaraviton on front of shirt and Azul on lower back of shirt will remain in place.
Strikers will be opening between 3 and 5 R9 Academies while on the trip.
They expect to bring at least 2 Chinese players back to the USA, 1 of which will be paid for in total by the Chinese government.
They see the trip as a great way to promote team building within the squad.
They will be talking to Chinese companies regarding building stadium(s) for them back in the USA.
1st game vs Shandong Luneng Taishan (coached by ex-Brazilian national team coach, Mano Menezes) will be streamed live in China.
Due to internet access issues within China they probably won't stream the games live in the USA, but they do plan on recording all the games and releasing them the following day on-line.
Ronaldo will join up with the group during the 2nd week of the trip.
Ownership & Front Office (FO) Staff
The board is more organized than previously.
Ronaldo is much more engaged.
Locker room and travel buses are now restricted access in order to focus the team and coaching staff before games.
New contracts are in place for FO staff focusing on career growth, incorporating defined roles & responsibilities, new benefits packages including 401k and life insurance, and flexible salaries to encourage new sales, potential savings, etc.
Stadium
They have signed a 1 year deal to keep us at Lockhart thru 2016, referred to it as "Our House"….although they might've meant "Out House"!
Central Broward Regional Park (CBRP) is the new training center since it's a significant improvement on the facilities at Lockhart, and they want to preserve the field conditions at Lockhart.
CBRP is currently undergoing renovations, paid for by Broward County, to move the light poles, which currently obstruct the view of the pitch, to back behind the stands and also to move the playing surface closer to the stands. They are going to spend approx. $600 to $700k on these improvements.
Broward County and Strikers are in negotiations to install a turf field at CBRP for practicing; currently Strikers use the turf fields at Broward College South Campus.
City of Fort Lauderdale is basically dragging their feet regarding any repairs or upgrades to Lockhart, unlikely anything will be done this year.
Strikers do have a Plan B in place if the Schlitterbahn deal falls through.
They have spoken to Schlitterbahn about building a soccer facility at Lockhart, nothing final.
Uniforms
They are ordered, prototype was at the office…but we didn't see it/them.
Scheduled to arrive on 3/15.
They are opening a Strikers store in Sawgrass Mall, and will probably have a press specific unveiling of the uniforms at that store on 3/15.
Official launch party expected to be on 3/27 or 3/28.
Sponsorship
Guaraviton have signed a 3 year deal, Strikers will be their marketing agents in the USA.
Guaraviton will be building a new factory in Miami.
Strikers will have 5% of the rights of Guaraviton sales in Florida.
They plan for 2 to 3 new potential sponsors in China.
Also similar plans for Brazil, and they are hiring 6 people in Brazil for marketing.
Media
They are expecting to confirm deals with local TV, international TV & 3 radio shows
They are looking to set-up a TV sports show dedicated to the Strikers on either a Saturday or Sunday night
General
There will be an open "town hall" meeting after the team returns from China trip, sometime during the week of March 14th thru March 18th.
When asked if moving up to MLS was an option, response was "Why not…if it makes sense".
Strikers are playing a closed door scrimmage with Orlando City today (2/24) around 4-5pm.
Luis thinks that the NASL champions should get compensation for winning the league and threw out a $1M figure as an example. Alternatively he mentioned maybe the champions could get a spot in a new CONCACAF Champions League style tournament.