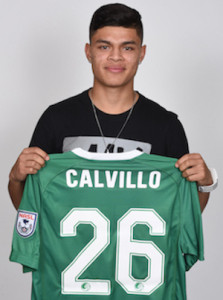 Official: Cosmos sign US U-17 player Eric Calvillo
The Cosmos announced the signing of USA U-17 international Eric Calvillo today. Calvillo is now the third US youth prospect to have joined the club, following Haji Wright and Alexis Velela.
"Eric is a talented player with great potential," said Cosmos Head Coach and Sporting Director Giovanni Savarese. "We are committed to developing young players and offering them a pathway in professional soccer. Last year we added the B team, and this year our fully funded Academy will start.  Players like Eric Calvillo and Alexis Velela are part of this investment."
While comfortable as a holding mid, Calvillo is a box-to-box midfielder. He saw extensive time in the U-17 World Cup, starting two of his three appearances in the group stage. The performance was clearly enough to get the attention of the Cosmos.
"Signing my first professional contract with a club like the New York Cosmos is incredible," said Calvillo. "Wearing the same colors as all-time greats like Pelé, Marcos Senna and Raúl is a privilege."
This signing is in line with goals the Cosmos have in regards to youth talent. These were shared with the media recently while discussing Wright and Velela.
Visit ThisIsCosmosCountry.com to read the full article.