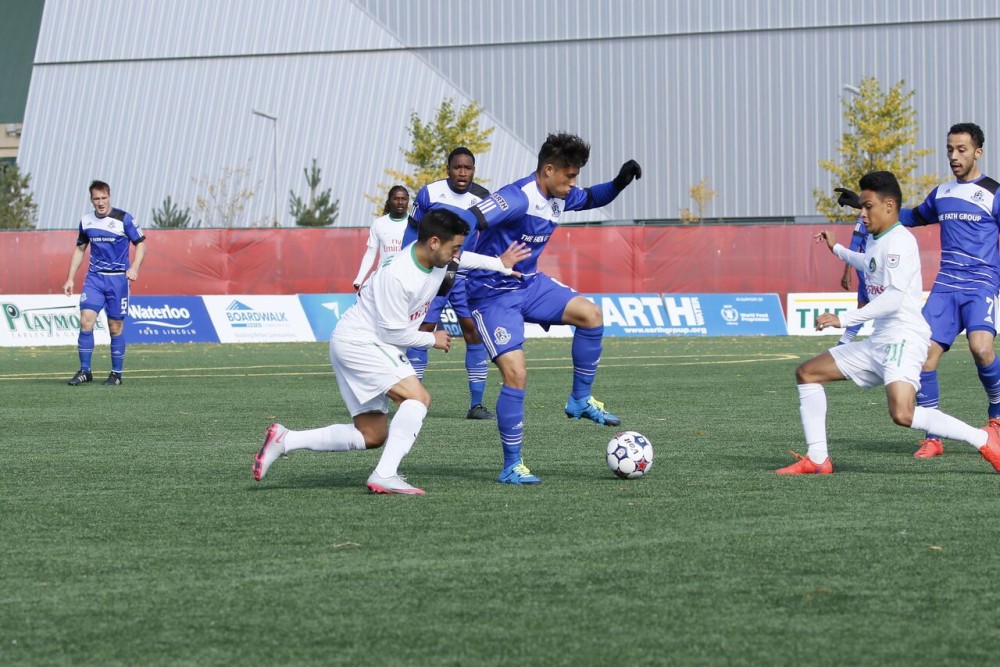 Recap: Eddies find first win and fourth playoff spot against Cosmos
FC Edmonton vs. New York Cosmos
Highlights:
[youtube http://www.youtube.com/watch?v=qTFlW55iLKQ&w=560&h=315]
Goals:
41' – Lance Laing (FCE)
43' – Daryl Fordyce (FCE) – Dustin Corea, Assist
58' – Marcos Senna (NYC) – Penalty Kick
Major Themes:
FC Edmonton won at home thanks to goals from Lance Laing and Daryl Fordyce. Laing was the beneficiary of a fortunate bounce as an intended pass rebounded off Jimmy Mulligan, landing back in his path and allowing him to drive deeper before firing a shot to beat Kyle Zobeck. The Daryl Fordyce goal was the result of a lapse by the defense as he found a gap in the back line and a Dustin Corea pass reached him perfectly, allowing him to beat Zobeck with little opposition. They hold the final playoff spot for now, but the two teams behind them (Rowdies and Strikers) have a game in hand and would pass them with wins.
The Cosmos sent a heavily modified lineup, choosing to leave Raul, Carlos Mendes, Jimmy Maurer, and Ayoze at home to get some rest and several players who have barely logged minutes on the first team this year found themselves starting the match, namely Zobeck, Hagop Chirishian, Jimmy Mulligan, and David Diosa. The decision cost the Cosmos who only got on the scoreboard due to a penalty. As a result of the loss, the Cosmos fall out of first place in the combined table for the first time in months, endangering their chances to host Soccer Bowl should they reach it.
In Form:
Lance Laing – The Jamaican international looked as impressive and dangerous as ever. Quick to pounce on an unlikely opportunity, he opened the scoring and managed to be a constant threat to the weakened back line all evening.
Daryl Fordyce – Two goals in three games. Fordyce is in good form and was very astute to identify a gap in the back line while also making sure he stayed on. Great job on finishing the opportunity and grabbing a game winner.
Dustin Corea – Corea had a solid performance and now is 2 for 2 against the Cosmos. In preseason, he scored the only goal for the home side in the CD FAS – Cosmos encounter in El Salvador. And this time, he assisted on the goal that earned them three points.
Liabilities:
Samuel Caceres – With Carlos Mendes and Roversio unavailable for the match, Caceres got the start for this match. It would not be his day as a mental lapse gave Daryl Fordyce the opportunity to score the game-winner. He was replaced at halftime by Hunter Gorskie who had a much better match.