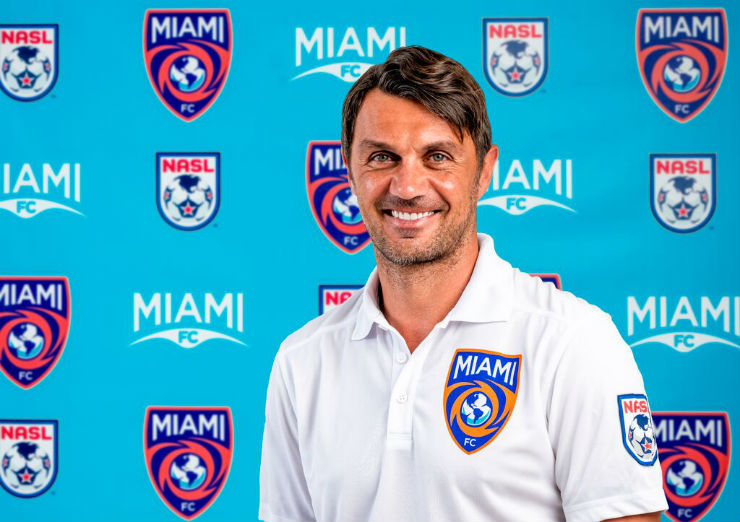 Miami FC launch club branding, Alessandro Nesta rumored as coach
Today Miami FC made significant movement towards getting a team ready for the 2016 NASL Season as they released their club badge and seal. Co-owners Riccardo Silva and Paolo Maldini hope to have Miami FC up and running in time to kick off next season as one of several named expansion clubs.
The club branding carries the colors orange, blue and aqua with a soccer ball placed in the middle. The ball features the silhouette of both North and South America. The colors are somewhat similar to the teal and orange that were initially used on the club's countdown website and are still present on the team's Twitter header. Teal and orange are the colors used by the Miami Dolphins, the city's popular NFL franchise.
"Our mission with Miami FC is to connect with Miami's communities through the global language of soccer," said Antonio Barreto, from Miami FC told NASL.com. "We wanted to make sure the badge and seal drew inspiration from the distinctive character that makes the city great, and we also wanted to create something that was truly representative of Miami's dynamic spirit."
Although it has not been confirmed by the league or the club, a reliable source has informed Midfield Press that Miami FC are all but ready to name Alessandro Nesta as the club's first head coach. Nesta played alongside Maldini for both the Italian national team and for Italian club side AC Milan. More recently Nesta spent two seasons with MLS' Montreal Impact. If confirmed as Miami FC's coach, he will make his managerial debut with the new NASL club.
Miami FC will be the fourth NASL club based in Florida, joining the Tampa Bay Rowdies, Fort Lauderdale Strikers and the 2015 NASL expansion side Jacksonville Armada. With David Beckham looking to launch an MLS club in the same city by 2017, Miami FC will look to get the most out of the footballing community as they can before the rival side begins playing.
Stay tuned to Midfield Press for more news and updates on Miami FC and all other NASL clubs.