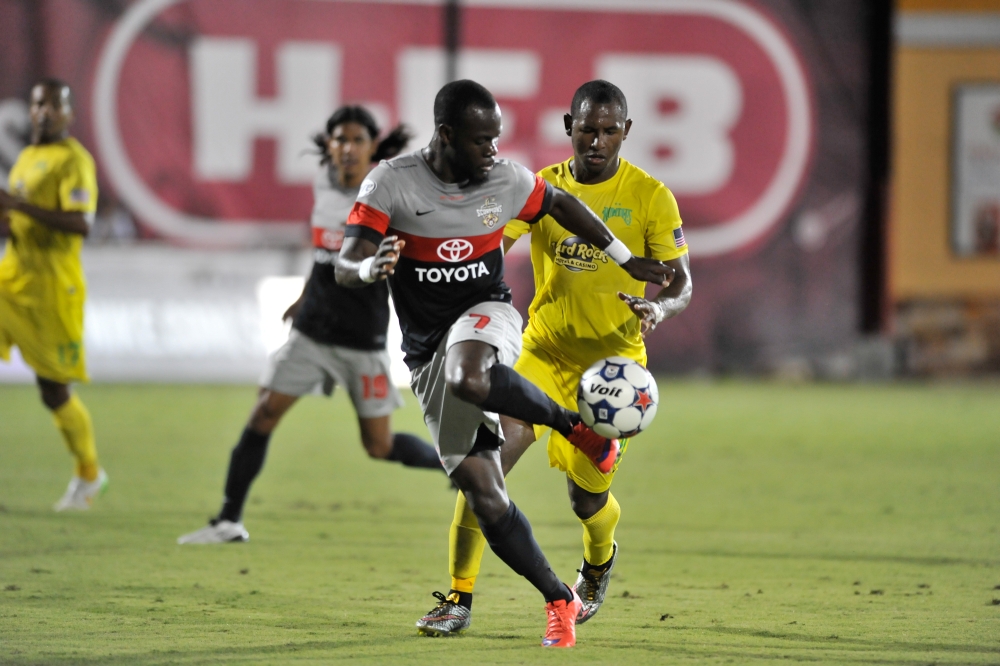 5 Players Who Switched Positions And Found Success
Every Thursday, Midfield Press presents five new players for your consideration.  This week, we look at players who made a position switch in their career that brought them new, or continued, success.
Kevin Venegas, Fullback, Minnesota United
Kevin Venegas played his college soccer at Cal State Fullerton, where he led the team with six goals in 2011 from a forward position.  After being selected by Chivas USA in MLS' 2012 Supplemental Draft and failing to make the squad, Venegas was picked up by Minnesota Stars FC.  He has spent much of that time playing a right fullback position that makes attacking runs throughout the game, though he has put in midfield duty as well (including against the Railhawks to open the 2015 Fall Season).
Leo Moura, Fullback, Ft. Lauderdale Strikers
The talented Brazilian spent the earliest years of his career not only moving from club to club but also from midfield to defender.  By the time he reached Flamengo he had settled into a new norm at right fullback, where he remained throughout his decade-long tenure with the team.  Ft. Lauderdale brought in Moura in 2015 and attempted to capitalize on his technical skill be moving him up to right midfield as he had played to begin his career.  But when that move failed to bear fruit, he was returned to the fullback position that brought him so much success in Brazil.
Georgi Hristov, Midfielder, Tampa Bay Rowdies
Georgi Hristov is a conundrum.  Is he a striker?  Midfielder? Is he your true #10?  The answer is a resounding 'maybe.'  Georgi has historically found a great deal of success at the top of the formation, but that was against a much weaker NASL.  Under coach Thomas Rongen he's found his niche as an attacking midfielder, capable of setting up scoring opportunities and still commanding the field.  Currently he leads the league in assists despite only starting seven games. His set pieces are good and his service on crosses is well-placed.  Now that the pressure is off him to be the sole goal scorer as it had been under former coach Ricky Hill, Hristov has settled into a role more suited to his talents and those around him.
Billy Forbes, Midfielder, San Antonio Scorpions
When Billy Forbes left college at Lubbock Christian University, he did so as a celebrated forward and the team's first-ever All American. Next he led PDL's Southern West Virginia King's Warriors in goals for the 2013 campaign, also from the forward position. But when he made the move to play for the Scorpions in 2014, he found himself setting up more goals than he knocked in. Fans won't complain. Forbes led the league in assists last year, and mostly finds himself patrolling a wide left midfield position these days. Occasionally, however, we still see Forbes getting the start either from a striker role or playing just behind a number nine and making dangerous runs forward.
Mason Trafford, Fullback, Ottawa Fury
In Ottawa Fury's inaugural season Canadian defender Mason Trafford was a rock in central defense, where he partnered well with Drew Beckie.  However, the introduction of Rafael Alves and Colin Falvey in the off season left Trafford's role in the club somewhat in the air.  The left back position for Ottawa has always been a weak point, and with Mike Randolph not quite living up to expectations, Trafford was thrown into the position.  Since moving to left back about half way through the Spring Season, not only is Trafford a regular starter for Ottawa, but he is also part of a very strong Fury back four that is setting NASL records.  There is no doubt that Trafford is happy to be back in the Fury starting eleven, and just like last year he has become an integral part of the squad's core, pushing Ottawa up the standings and towards their first postseason berth.
Have a player you think we overlooked?  Tell us in the comments.