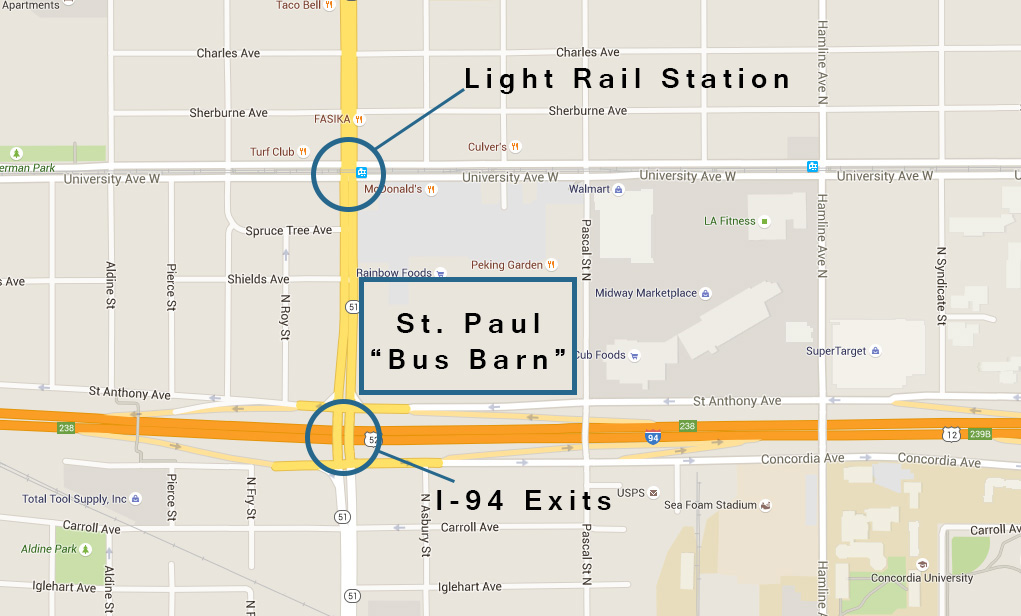 MLS Looking to St Paul for MN Stadium Site
You've heard of a 'soft open?' That's when a business opens its doors to a small, select group as a sort of trial run before a grand opening to all. Well, Major League Soccer has given us something akin to that, a sort of 'soft close.'
Earlier this year, the NASL's Minnesota United was announced as the next MLS expansion team. Needing to join MLS or face virtual extinction, Minnesota was able to beat out the bid of Minnesota Vikings owner Zygi Wilf even though Wilf had already secured public money (the vast majority of the cost actually) for and started construction on a new downtown Minneapolis stadium. Part of Minnesota United's allure was a legitimate, long-standing supporter culture and the promise of an open-air, grass soccer-specific stadium in downtown Minneapolis.
The promise of this stadium was the subject of MLS President and Deputy Commissioner Mark Abbott's appearance today on local ESPN radio. July 1st was the deadline given for Minnesota United to have a stadium plan. Abbott made it point several times to say that MLS hasn't extended the deadline. Yet here we are, July 1st and Minnesota United do not have an approved stadium. What does this mean? It might just mean that Minneapolis has missed out on its chance to have a major downtown revitalization project.
Minneapolis (the whole state of Minnesota, really) has stadium fatigue due in no small part to the NFL and NCAA. A bitter person could say without too much exaggeration that the well has been poisoned for Minnesota United. This is why owner Bill McGuire made sure to craft a plan for a new downtown stadium that would be the cornerstone to a rather decrepit neighborhood's economic revitalization as well as be nearly entirely privately funded. 'Nearly entirely' is what has tripped up Minneapolis mayor Betsy Hodges, who made opposing public financing for private endeavors a campaign promise, and given those still in the Wilf camp an in to sow discord. Stadium-fatigued opponents stand with their hand over their ears while singing to block out any reasonable discussion. People smarter and more eloquent than I have already gone over this (here & here).
Where has MLS been during all this? At a distance, to say the least. Today was the first real statement by the league concerning its incoming franchise and that statement was equivocal. Abbott made it clear that the league is now going to look to St. Paul, where mayor Chris Coleman is seemingly more amenable. The state's capitol has been seeing a renaissance of late with not just the NHL's Minnesota Wild stadium downtown but the much loved independent minor league baseball team having just opened a new field downtown as well. Adding a MLS team would certainly up the profile of Minneapolis's sister city. The St. Paul Pioneer press quoted St. Paul Chamber of Commerce President Matt Kramer proposing two potential stadium sites, the "Bus Barn" on Snelling Avenue and the "Sears Site" next to the State Capitol.
Yet Abbott's comments also make clear that MLS has not involved in the political process up to this point. Although Abbott insisted that MLS is always "available anytime to speak to public officials," he and his cohorts don't know enough to comment on the "personalities" (i.e., mayors, public officials) involved. The picture I get is of the league being hands-off until now when it decided that an arbitrary and consequence-less deadline was the best way to insert itself into the conversation. In fact, Abbott said that no one from MLS has approached St. Paul's public officials. Abbott will arrive "in the next few weeks" to St. Paul "to evaluate Mayor Coleman's proposal." It seemed as though Abbott wasn't just putting Minneapolis on notice but Minnesota United as well when he said, "You can't have a team without a stadium plan."
It might seem a simple and direct statement, but it is anything but. Minnesota United do have a stadium plan, it has a stadium plan that is more real that Miami's (David Beckham's expansion city) but less solid than that of Chivas USA's replacement 'LAFC.' Comparisons are a bit unfair, however. All politics is local and every city is a completely different situation. What the MLS' deadline-that-isn't-a-deadline-but-that-won't-be-extended-even-though-it's-clearly-being-extended means is that now the league feels the need to get involved to push through a stadium solution.