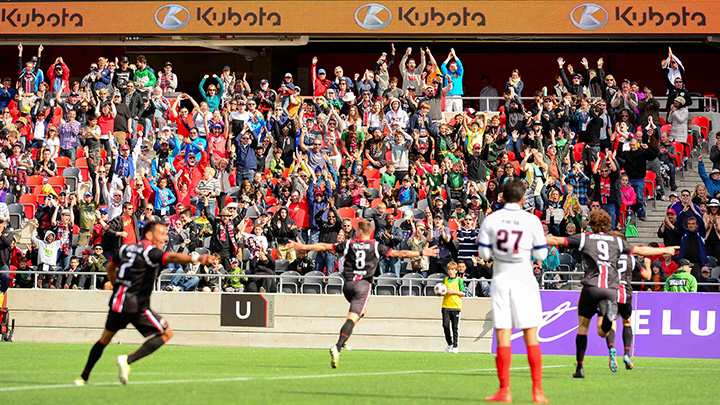 Ottawa Fury FC Fall Preview
As the FIFA Women's World Cup nears its end, the North American Soccer League will begin its Fall Season, and Ottawa Fury's stadium at Lansdowne Park will  see the beginning of both the NASL and the CFL (Canadian Football League).   This of course means Fury will need to play their matches with large advertisements on the pitch, occasionally with gridiron lines overlapping, and more Sunday matches; but that is all a part of being a partner in OSEG (Ottawa Sports and Entertainment Group).   With better weather, the hype of the World Cup in town and hopefully the return of winning ways, there are hope attendances will improve along with the performances on the pitch.
Looking Back
The Spring Season wasn't what Fury coaching staff and players had hoped for, but they have kept themselves in the race for a playoff position.  Early on in the Spring Season they saw several 3-1 losses, including two in the Canadian Voyageurs Cup vs FC Edmonton.  The defensive issues were quickly repaired as Fury ended the Spring Season with a 526 minute run without conceding a goal, with the back four and Peiser forming a strong foundation for the team, however the offence struggled to put away scoring opportunities as Fury would score only 5 goals in 10 games.
Marc Dos Santos had said he hoped his squad would be pushing for a top for position in 2015 and the club are only a few points off of 4th place, however the teams they are competing with for the same spot will mean Fury will need a big push in the Fall Season to see their fortunes change.  Although they sit just three points off of third place, they are also just three points off the bottom of the table, meaning they will have a challenging Fall Season ahead of themselves.
Preparing For The Fall
Under Dos Santos, Ottawa Fury have always, for the most part, played in a 4-3-3 formation, utilizing the wings with a single centre forward.  This is a fine system if the lone striker has the ability to finish chances, however during the Spring Season neither of the three players to play the role, Heinemann, Wiedeman or Haworth, were able to put away chances.  On June 26th Ottawa Fury signed Aly Hassan from the Fort Lauderdale Strikers, and there is real hope that the 6'3 forward can take advantage of his new role in Ottawa.
Romuald Peiser will hope to extend his 526 minutes clean sheet run, an NASL record, when Fury host Jacksonville Armada on July 5th.  The hopeful return of captain Richie Ryan, who spent the vast majority of the Spring Season out with a leg injury, will help push Ottawa towards a more possession dominated style of play.  The Irishman only managed two games in the Spring, both as a substitute, however in both of these matches he helped inspire the squad to vital home wins.
Prediction
It is hard to predict exactly what to expect from Ottawa Fury during any given week, as they have played amazingly against teams like Minnesota United, while also struggling against rivals FC Edmonton on multiple occasions.   If they can improve offensively, there is no reason why Ottawa can't push for a playoff spot, or at least keep the race interesting, but a mid table finish (6th-8th) is much more likely.   Despite the gap near the top of the standings, there isn't much between a lot of the teams sitting mid or lower table, and another addition for Fury could push them to the next level.
Richie Ryan will be the one to watch this Fall Season as he returns to the heart of the midfield, while Paterson and De Guzman will be looking to continue their strong spring form.  Mason Trafford has found a new lease of life at left back, while Ryan Richter has been strong at right back.   Rafael Alves and Colin Falvey have formed a strong partnership in the central defense after a questionable start to the season, and they will be looking to continue their good form.  Aly Hassan will hopefully add a finishing touch to the forward line, while Tom Heinemann and Andrew Wiedeman will be looking to make up for injury plagued, sub-par Spring Season.  Carl Haworth has adapted well to the NASL in his second professional year, while Paulo Jr will hope to start scoring some goals this fall.  Oliver had high expectations heading into 2015 and missed the end of the Spring Season through injury, so the Brazilian will likely have something to prove as he looks to have a strong fall.