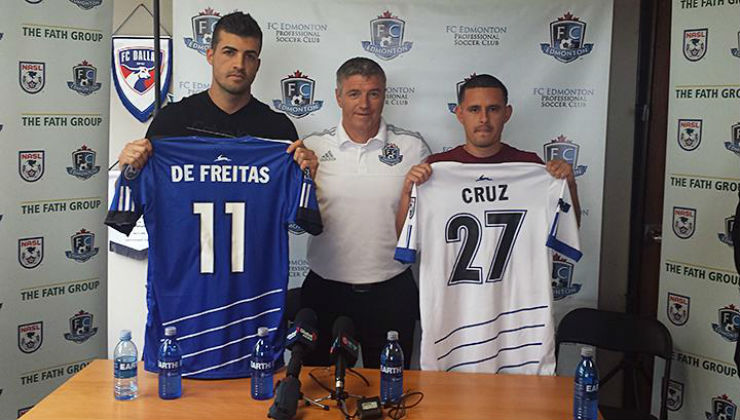 FC Edmonton signs two midfielders
Looking to bolster their league position during the Fall NASL Season, FC Edmonton announced yesterday announced the signings of American Pablo Cruz and Brazilian Thiago de Freitas. Edmonton finished a disappointing 10th among 11 NASL teams in the 2015 Spring Season.
Cruz comes to Edmonton from the San Antonio Scorpions where he played 23 minutes in two substitute appearances this Spring. He spent 2012-2014 with the Atlanta Silverbacks starting 26 games and scoring 4 goals. Edmonton coach Colin Miller said that Cruz had been a off-season transfer target but that, "Due to some irregularities in the dealings the deal fell through." In July 2014, Cruz scored the game winning free kick in's Atlanta 1-0 defeat of Edmonton:
Fellow midfielder Freitas is a product of the Fluminese (Brazil) and Padova (Italy) youth systems and has played for 9 senior teams since 2007. His most recent stint came at Greek club AOT Alimos (A.O Trachones F.C.) where he spent a half season. Prior to Greece Freitas has played at clubs in Israel, Portugal, Hungary and Germany. When introducing de Freitas to the media, Colin Miller praised the Brazilian's footballing pedigree. It is  worth noting also that de Freitas fills Edmonton's final available international roster slot which had opened after Finnish Óskar Hauksson's departure mid-Spring.
Both players will join Edmonton for their first pre-Fall Season training session on Friday, June 19th. Coach Colin Miller will hope their addition will help stop the steady stream of conceded goal which plagued the Eddies' Spring Season. Despite tieing the league leading New York Cosmos for highest goals scored, the Eddies finished the Spring with a -6 goal differential.
—
A Pablo Cruz highlight video from 2013:
Midfield Press could not locate any videos for de Freitas in a short search on YouTube.